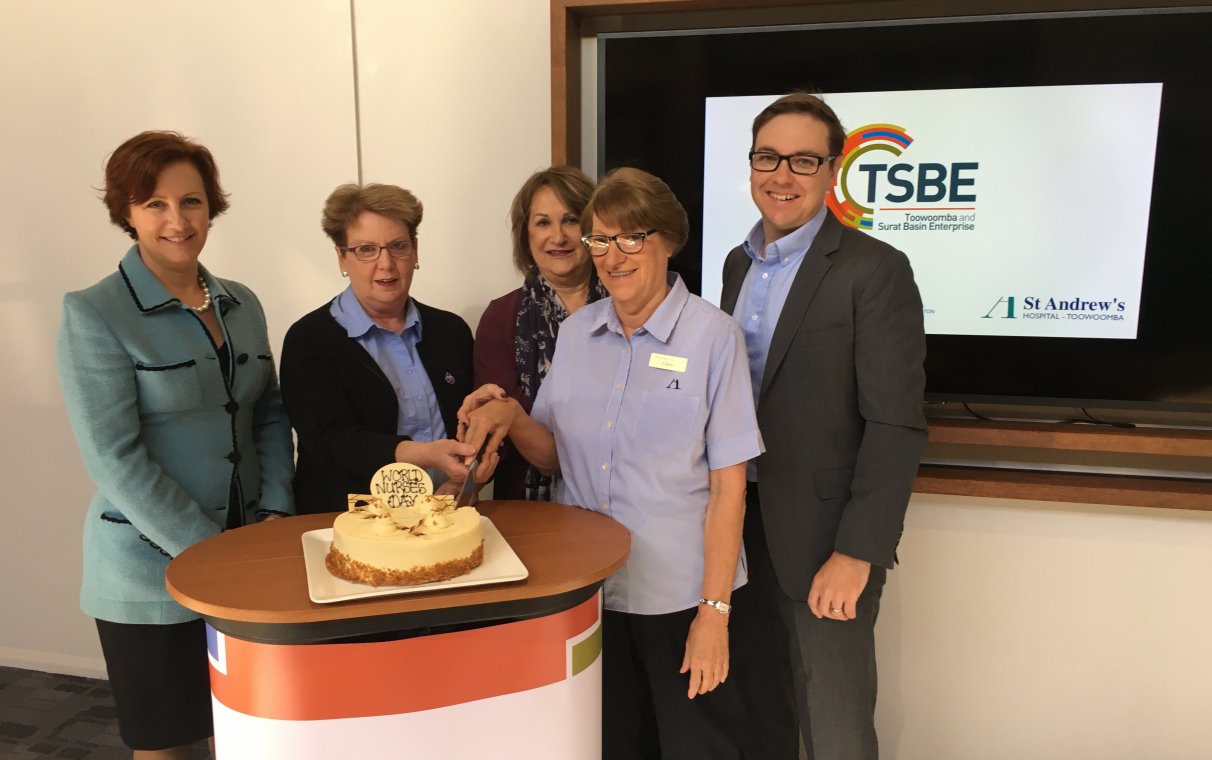 Century of service celebrated with three of the region's longest-serving staff ahead of International Nurses Day
Some of the region's most experienced and longest-serving nurses were celebrated at the Toowoomba and Surat Basin Enterprise (TSBE) office today ahead of International Nurses Day (Saturday May 12).

With more than a century  of service and an estimated 70,000 patients benefitting from their combined care over the years, the guests of honour, Claire Hill,  Admissions Nurse of St Andrew's;  Barb Bishop, Nurse Manager, from Toowoomba's Baillie Henderson Hospital and Wendy Kelly, Nurse Unit Manager for St Vincent's attended the morning tea held in their honour.
 
Ms Bishop's nursing journey started in late 1966 when she was an Assistant in Nursing Granted Permission to Train at Baillie Henderson. Ms Bishop and her then-husband Vince Allen became the first married couple to graduate from the mental health facility in 1971.
"A lot of his family were working here, so I started my training and have been here at Baillie most of my working life bar a short stint at the acute mental health unit at Toowoomba Hospital and completing the Care of the Aged Course at PA Hospital in Brisbane," Ms Bishop said.
"It's a great job, a great place and great people," Ms Bishop said. "I just love working in mental health. I have always been proud to say I work at Baillie."

Ms Bishop's enthusiasm for her work has inspired two more generations to work in Health. Her daughter Donna Luck is a community mental health team leader at Toowoomba Hospital and her grandson Billy Allen is a Clinical Nurse at Baillie Henderson.

St Andrew's Admission Nurse Claire Hill grew up in Crows Nest and always had a passion for caring for others.

"As a child I lived on a farm and my animals were my world," Ms Hill said.
"I cared for their welfare and Mum said I should be a vet, but I couldn't communicate with them to let them know I was going to give them an injection. I became a nurse where I could speak to my patients."

Ms Hill's passion for nursing comes from the process of serving and helping people.

"When someone is feeling low you as a nurse are accepted into their world. They know you will look after them, listen to them and help. If I have assisted someone it's worth it," Ms Hill said.
TSBE Health General Manager, Jaden Frame, is committed to raising the profile of the health sector across the Toowoomba region and was proud to host the special morning tea ahead of International Nurses Day.

"Queensland is home to more than 70,000 registered and enrolled nurses and International Nurses Day is a wonderful opportunity to pause and acknowledge the amazing work of our nurses and wider medical staff who provide world-class care for our community," Mr Frame said.
Recent reports suggest the average tenure of staff in the wider workforce is falling with the typical time spent in a role now being three years and four months.

"Nurses provide a vital role in patient care. Staff who spend a greater number of years on their hospital units such as Claire, from St Andrew's, Wendy from St Vincent's and Barb from Toowoomba's Baillie Henderson Hospital help deliver a greater level of high-quality care for our community," Mr Frame said.
"After speaking with our nurses today and learning of their 100-plus years of combined service to our region, I believe the Darling Downs offers fantastic opportunities for medical staff wanting a rewarding career that strikes a good work-life balance," Mr Frame said.
TSBE Health hosted the International Nurses Day morning tea to acknowledge the work of the region's nurses and to celebrate some of the region's leading health providers. For more information visit www.TSBE.com.au/TSBEHealth  

BACKGROUND
TSBE Health links businesses with opportunities to boost the region's health profile and promote the liveability and services in the region. TSBE Heath secured a memorandum of understanding in 2017 that was signed between Toowoomba Regional Council and the three private and public hospitals in the Toowoomba region to support growth and innovation in the health sector.  For more information visit: https://www.tsbe.com.au/progressive-health-progressive-region