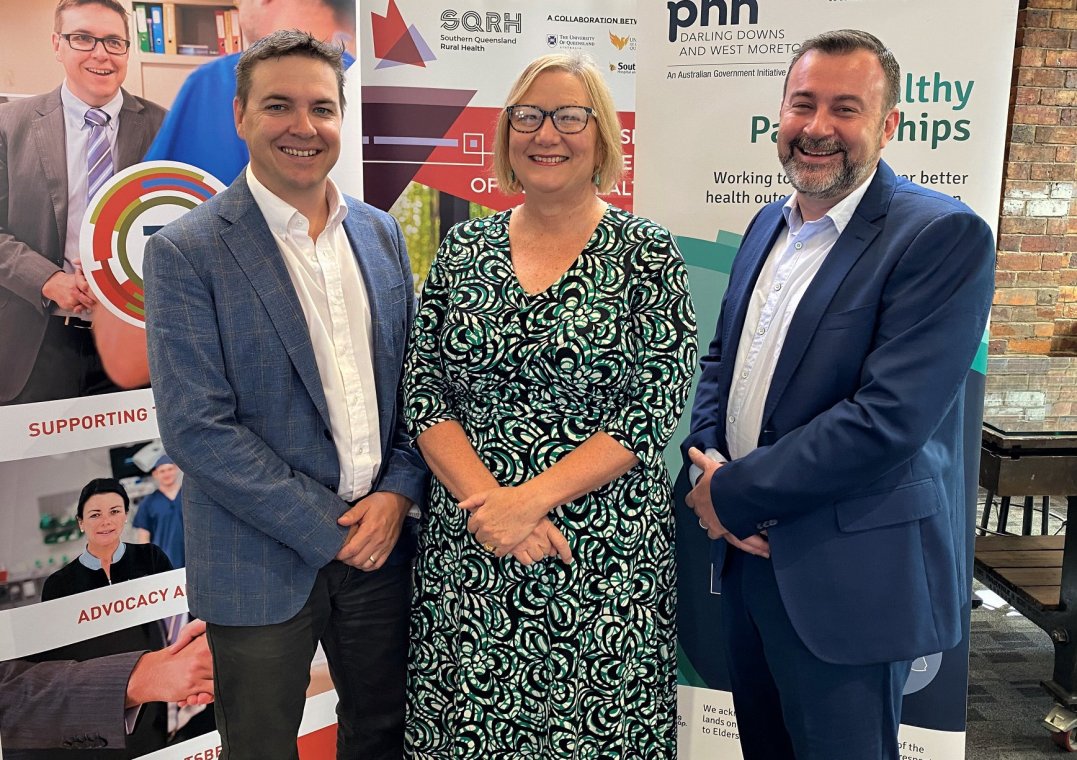 The Downs Health Conference a game changer for regional healthcare
A new health conference will bring together allied health professionals, nurses and midwives to look at innovative ways health care providers can work together to improve the health and wellbeing of the community.
The Downs Health Conference will be held on May 29 and 30 and will provide an opportunity for attendees to collaborate and discuss emerging issues influencing allied health care in regional areas.
The conference is being run by Toowoomba and Surat Basin Enterprise (TSBE) and supported by Darling Downs and West Moreton PHN.
Topics will include promoting flexibility and innovation in rural and regional allied health service delivery, continuing education and professional development activities, providing sessions on workforce development and business opportunities to build better businesses.
The Downs Health Conference will feature keynote speaker, National Rural Health Commissioner, Professor Paul Worley.
Professor Worley has had a distinguished career in rural health, both as a practitioner and an academic. Professor Worley said he is passionate about quality, equity and fairness for all, especially the underserved.
Professor Worley commented that, "Australia's rural and remote communities and the health professionals who serve them, deserve an evidence-based, sustainable, cost-effective and well supported rural health system, designed by rural clinicians, grown in rural regions, and serving all who live across our vast land."
"We must have the right health professionals delivering the right care, in the right place at the right time," said Professor Worley.
The conference will also feature guest speaker Hon Mark Coulton, Minister for Regional Health, Regional Communications and Local Government who has responsibility for rural, regional and remote health.
Southern Queensland Rural Health (SQRH), a conference partner and member of the organising committee, is building the number of nursing, midwifery and allied health students who choose to take up placements in rural and remote areas as the region's University Department of Rural Health.
SQRH Director Associate Professor Geoff Argus said SQRH was delighted to be part of the organising committee for The Downs Health Conference.
"We're looking forward to bringing together the vast knowledge and skills of our regional, rural and remote health workforce," said Professor Argus.
"Their combined efforts bring innovation and creativity to the challenges of providing healthcare across vast distances and the many varied and diverse communities within the region."
The addition of keynote speaker, the National Rural Health Commissioner, is a real coup for our region.
"Professor Worley's comprehensive knowledge of the nation's rural healthcare landscape will help inform our discussions and gives us the opportunity to make a real difference to the delivery of healthcare throughout Southern Queensland," said Professor Argus.
"Since our inception in 2017 SQRH has worked collaboratively with numerous health stakeholders to help build a sustainable rural health workforce and we are keen to progress key partnerships which further cement that goal."
"What we have found is that there is enormous goodwill to find solutions and a forum like The Downs Health Conference allows us to harness that momentum," he said.
This year's conference will include a two-day program with a networking event starting from 8:30am on Friday 29 May until 1:30pm on Saturday 30 May with both events held at Empire Theatre in Toowoomba.
For more information on the conference see: www.tsbe.com.au/events/downs-health-conference