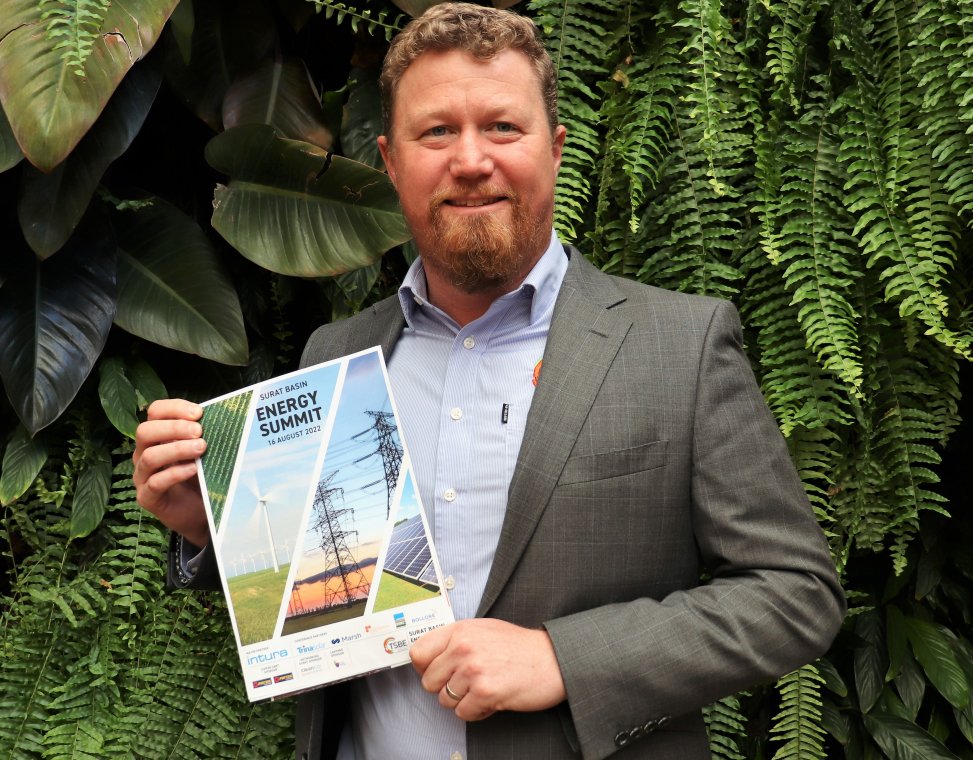 Energy Summit to Turbocharge Surat Basin's Power Players
The Surat Basin's potential to become the most diverse energy production region in Australia will be explored at a summit in Dalby next month, on August 16.
The Surat Basin Energy Summit brings together industry leaders to discuss how the region can capitalise from the ever-changing energy landscape to create investment opportunities, and in turn, power long-term local economic growth.
Toowoomba and Surat Basin Enterprise (TSBE) General Manager - Energy and Infrastructure Lance MacManus said the Western Downs is the perfect place for the event, located in the heart of the Surat Basin.
"We're on the cusp of another major investment boom for energy projects in the Surat, and if positioned correctly we could create hundreds of long-term jobs for our region and cement our reputation as the energy capital of Australia," Mr MacManus said.
"The decades-long security of natural gas and coal, combined with emerging renewables of wind and solar as well as hydrogen and battery storage, offers exciting opportunities for the local sector to bolster our electricity supply.
"With the Olympics set to shine a light on south-east Queensland, we have a global stage to showcase our sustainable energy ecosystem as well as create long-term jobs for regional Australia."
Western Downs Mayor Paul McVeigh said that the region was exceptionally well placed to embrace the future of energy production with its natural advantages, great connectivity, powerful high capacity energy transmission network and supportive and collaborative supply chains.
"The Western Downs isn't a region to shy away from an opportunity and our record of aggressive attraction of investment in energy and renewable development has created our strong energy sector, and lead to the region becoming the energy capital of Queensland," Cr McVeigh said.
Renewables will be a big focus of the summit as there are currently 34 large-scale renewable projects under development in the Surat Basin, with a total capacity of over 11 GW.
This capacity represents almost 30% of all projects under development in Queensland and 7% of all projects in the National Energy Market.
The speakers at the forum include leaders from all aspects of the Surat Basin's energy sector including traditional energy producers of coal and gas as well as renewables and future energy providers who will discuss the challenges they face in the changing energy landscape and talk about their goals for the future.
One of the speakers is Ian Davies, Senex Energy CEO, who said the Surat Basin's abundant natural gas resources, talented workforce and collaborative spirit would make the region an economic, energy and jobs powerhouse for many years to come.
"The Surat Basin is doing the heavy lifting for the east coast market, providing around three quarters of natural gas supply and propping up southern states during the recent energy shortfall."
"With the right policy settings, we will continue to contribute more than $1 billion a year of royalties, support over 30,000 jobs in our supply chain and work in partnership with our great host communities," Mr Davies said.
Energy Quest Head of Consulting Rick Wilkinson will speak about the future of the Surat Basin's gas at the Summit, and its role in meeting global energy and emissions targets.
"With solar, wind, gas and coal, the Surat Basin is Australia's best positioned region to provide short term energy security and long-term low carbon energy for the future," Mr Wilkinson said.
"Australia's energy pivot to low carbon energy is a generational challenge – one in which the Surat Basin is ready for with advanced infrastructure and energy support industries."
Queensland Resources Council (QRC) Chief Executive Ian Macfarlane is facilitating one of the sessions on coal and said the resources sector is keen to play its part in Australia reaching net zero by 2050.
"The resource sector is already investing in renewable energy projects to power their mines and low emission technology for their haul out fleets", said Mr Macfarlane.
Other speakers at the conference will include the Australian Country Chair of Shell, as well as the leaders of CS Energy, Arrow Energy, APPEA, Powerlink, Helmont Energy, BE Power, UQ Energy, CleanCo, Cubico Sustainable Investments, Stanwell and Energy Synapse.  
To book tickets for the summit on August 16, visit the TSBE website – www.tsbe.com.au/events/surat-basin-energy-summit.