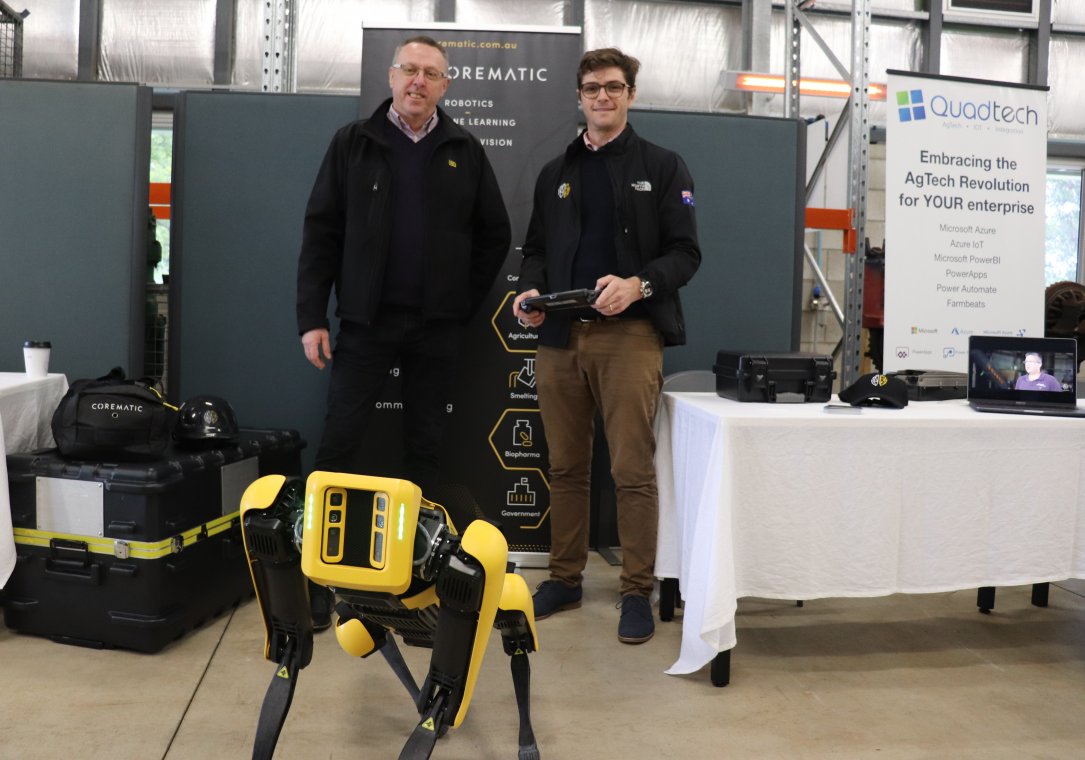 Innovative tech on display at field day from drones to robot dog
The first 400M Field Day has showcased leading technology solutions which will help pave the way for farming in the future.
Hosted by Toowoomba and Surat Basin Enterprise (TSBE) , the field day gave attendees the opportunity to see the state of the art equipment in action after yesterday's successful forum at the Empire Theatre.
A robot dog named 'Spot' was a part of Corematic's exhibit at the TAFE Rural Centre of Excellence this morning.
Corematic National Project Manager, Cyril Delorme said the clever canine can be used for several purposes.
"We can send the dog into unknown and rugged terrain to do inspections, monitor cattle, fire monitoring or gas detection measurement."
"Spot the dog has a lot of possibilities that we don't yet know about and this is what Corematic is about; solving problems that companies may have," said Mr Delorme.
Another business which put on an interactive display was RDH Integration Services, with Director Rowyn Hellyar thrilled by the opportunity. 
"400M is a great forum and it's really exciting to be a part of it."
RDH's stall included remote technology to unlock gates and thermal cameras which can be used for animal health.
"There's a big break in the uptake of digitalisation on farms, we're finding more and more people are wanting to go down this route," said Mr Hellyar.
Bruce McConnel, TSBE Food Leaders Australia (FLA) General Manager said it was great to show off this new technology, while forging collaboration as an industry. 
"Toowoomba is now being known as a location where smart innovators can come and get an understanding of what problem to solve, knowing there's a marketplace for them to sell in the future."
"That's never existed really in the AgTech scene across Australia, but industry is heavily involved and willing to tell their problem to allow innovators to solve it."
The field day was also a chance for local TAFE Queensland students to immerse themselves in a hands-on approach to learning.
TAFE Queensland General Manager Brent Kinnane said TAFE was delighted to be part of 400M.
"This is an exceptional experience for our students to actually get to see some of the latest technology that's here and now, it's a really exciting time."
"It can be difficult to keep up to date with everything that's going on in the AgTech industry so having them all in one spot at our Rural Centre of Excellence here is outstanding."
Exhibitors used the field day to network with attendees, and give advice around AgTech.
Meg Kummerow from Fly the Farm said it's about having someone for farmers to talk to and get some realistic expectations about outcomes.
"Don't get hung up about one technology being the be all and end all, look at everything that is out there and see what works for their particular issue," she said.
The field day wrapped up the two-day 400M Agrifood Innovation Forum, helping drive innovation in Australia's agriculture industry.
View more photos from the event here.