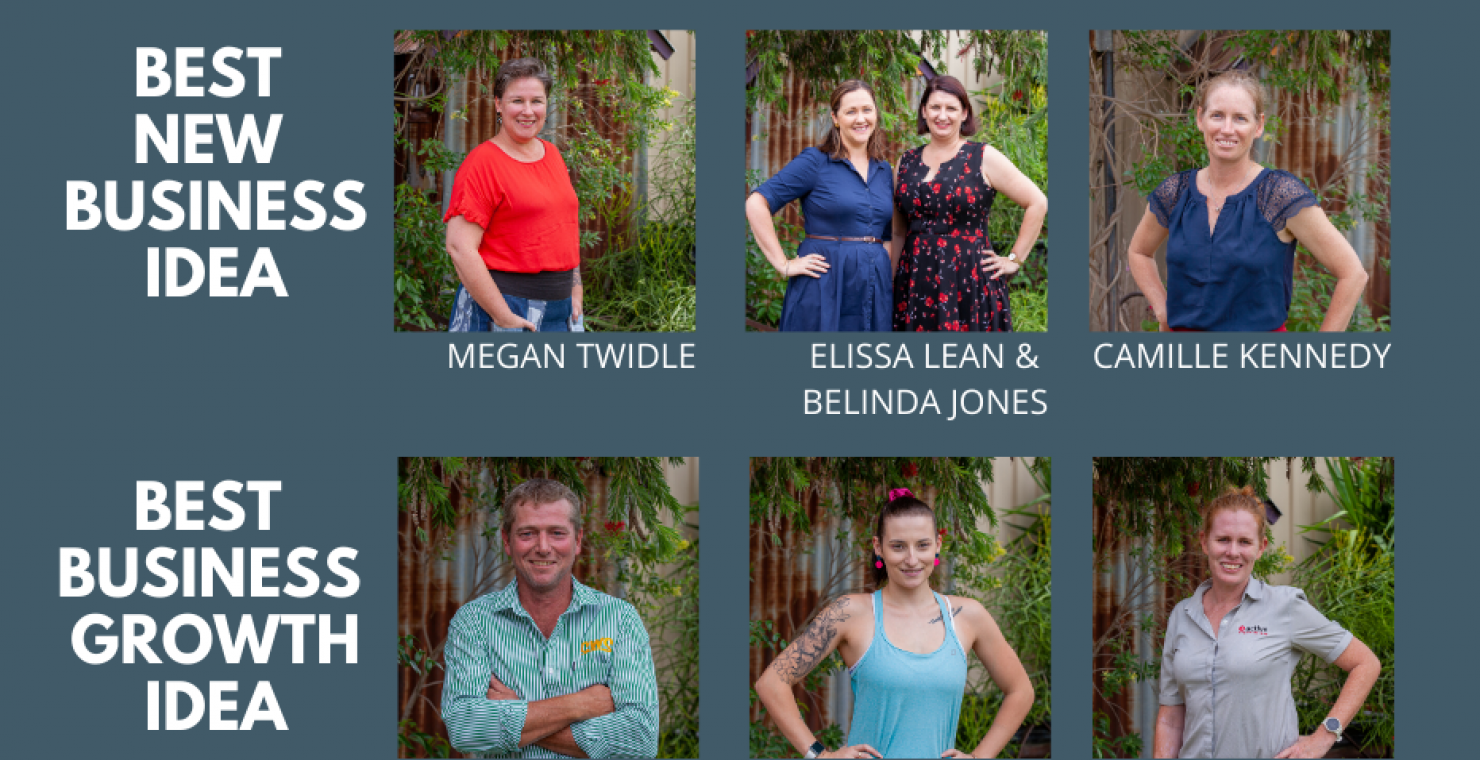 Media Release: 2020 Business Navigator Pitch Challenge Finalists Announced
Business Navigator Western Downs have just announced the finalists in the 2020 Pitch Challenge, a friendly shark-tank style event aimed at discovering new product, service and business ideas across the Western Downs.
Six Western Downs entrepreneurs will each have five minutes to pitch their ideas at the live final, competing to win Best New Business Idea or Best Business Growth Idea and the $10,000 first prize for each category.  
Guests at the finals evening, to be held at Chinchilla Cultural Centre on Thursday, March 19, will also vote for the finalist most likely to succeed, who'll take the home the Shell QGC's business People's Choice Award and a further $5,000.
Fran Peterson of Shell's QGC business said the finalists are a great example of the passion for business and new ideas that is occurring right across the region. 
"We're proud to support people who want to create and grow new businesses and jobs that will contribute to the economic diversity of the Western Downs."
"Congratulations to the individuals who made it to the semi finals and will now pitch their ideas to the public.
They represent a range of industries from health and fitness to agriculture and retail."
Finalist have taken part in a series of coaching sessions with the team from Business Navigator Western Downs in readiness for the event.   
"The judging panel will be critiquing a number of areas, including the viability of the idea, market potential and of course the quality of the pitch," said Lead Business Coach Ariane de Rooy.
Judge Sara Hales, founder of the The Bold Effect, a leadership development consultancy said "as someone who lived in a remote area I know the ingenuity that's prevalent in regional Australia, and am looking forward to seeing the ideas, the pitches, and who has the ability to achieve their business goals."
In addition to an evening of dinner, drinks and networking, guests at the finals will vote for the much anticipated People's Choice Award, for the finalist most likely to succeed.  The winner will take home a further $5,000.  
Tickets are now on sale for the event, at $45 single or $320 for a table of eight, and can be purchased online at www.tsbe.com.au/events.  
Business Navigator Western Downs is supported by Shell's QGC business and delivered by Toowoomba and Surat Basin Enterprise.  
The six finalists for 2020 Pitch Challenge are:
New Business Idea
Elissa Lean and Belinda Jones of Chinchilla. Elissa and Belinda are primary school teachers who share a passion for everything related to children, especially keeping them safe. This ignited their new business idea for custom temporary kids tattoos featuring the contact details of parents and carers – ensuring any lost child can be reunited quickly with their loved ones.
Camille Kennedy of Kaimkillenbun. Cattle producer Camille and her family love steakettes, and love using their own beef products. When she couldn't find a steakette maker to anywhere, Camille went ahead and invented one.
Megan Twidle of Chinchilla. Megan is a self-taught seamstress with a strong passion for fashion and the environment. To help combat fashion waste, she's produces unique denim clothing and accessories from repurposed jeans under her label 'Stytchy Wytchy'.
Business Growth Idea
Chris Olm of Chris' Welding and Steel, Chinchilla. Chris has combined 35 years of farming with 25 years of fabrication experience to make nutrient distribution more efficient for broadacre farmers.  His invention, the 'Depth Tyne', delivers nutrients to the root zone of crops with minimal soil disturbance in half the time of equipment currently on the market
Maggie Pyke of XPression Dance Academy, Chinchilla. Maggie's focus on positivity, movement and wellbeing is the perfect mix for her business growth idea, Xpression Yoga Academy. To help tackle the increase in stress, anxiety and depression, Maggie plans to offer yoga classes with a focus on breathing and stretching to people of all ages and fitness levels.
Annie Cusack of Active Physiotherapy, Dalby. Annie is a physiotherapist who wants to help the 37% of Australian women who experience incontinence. She's developed a 12 week online program of exercises, education, tips and support so that new mothers and menopausal women have access to convenient and affordable solution to this delicate issue.