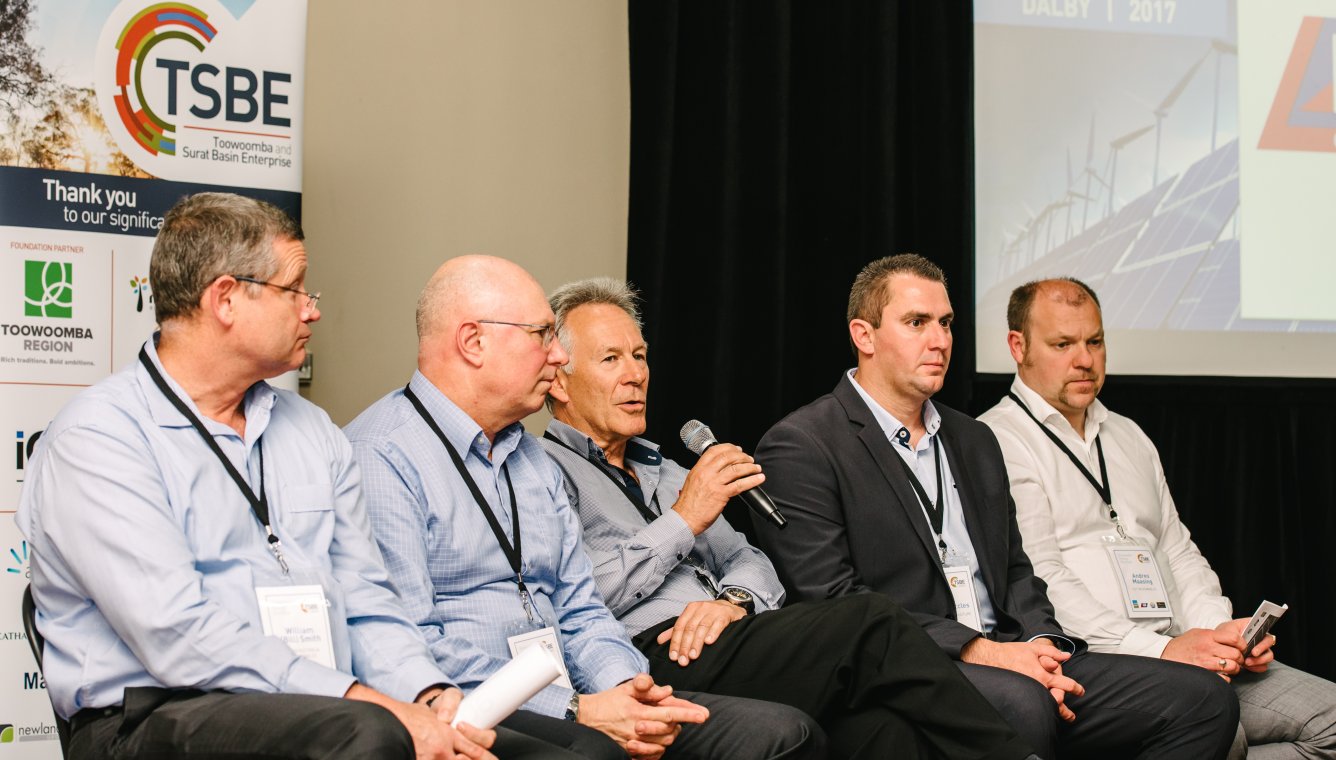 Surat Basin News: Renewable Energy Roundup, Freight, TSBE Exchange Portal and TSBE Golf Day
Major industry project updates
This month has been all about topics for the renewables supply chain with solar and wind projects. 
The Renewable Energy Roundup in Dalby showed the scale and pipeline of projects on the books for the region, which is exciting for this emerging industry. We also saw lots of new names and faces to the network with attendees, as well as international delegates from China who are interested in entering the market. As we saw on the site tours, the first of the ARENA funded large-scale projects has really started to ramp up construction.  Civils, fencing, offices, piling and HV cabling, and panels have all started moving to site. 
Excitement now moves to see the remaining 13 or so approved projects move ahead as they hopefully progress to the construction phase. Hot discussion was Power Purchase agreements, the abundant availability of sites and finance that could be detrimental to seeing these projects get off the ground.
It's great to hear it's not the Western Downs Regional Council slowing them down, having approved 10 projects in the past 12 months!
As for wind, understanding what it takes to build a wind farm and seeing how they move these large components from the port to site, was an education in itself for suppliers or contractors. The one resounding take-away for me was hearing from global experts in renewable wind-generated energy stating there is no more exciting, or faster-emerging market for wind globally than Australia. We have a feeling Coopers Gap might not be the only wind farm in the region being looked at!
Did you know?
International freight costs have skyrocketed due to lack of demand for ship space, especially out of Asia. If you are wanting to ensure your project's timelines are not held up or at the mercy of fluctuating prices, now would be the time to take advantage of increased services out of Toowoomba.
The major transport infrastructure currently being constructed, completed or now in the pipeline, means the region is lucky to be on the radar of national Transport & logistics services providers.
We know project margins are increasingly tighter, so we can only advise on taking advantage and ensuring your teams get the usual three quotes. 
Stay informed and be connected
The supply chain team have been busy with the new information exchange portal. Packages have started to be released for projects including, CSG, Coal, Civil Local Government and Solar.
You don't have to be a major project to use this exchange portal. The TSBE network is all about building contacts. If you are tendering or quoting on work, get in touch with the TSBE team to get advice on how to take advantage of this member to member service. If you haven't registered, you can do so now.  It runs on mobile phones, tablets, and desktops. For log-in instructions please contact Reagan.
Product showcase
Recently joined TSBE bronze members MIGAS Apprentice and Trainees are helping to fill our skills shortages within the region. Business Development Manager Chris Winter has been servicing the wider region on major projects for the past 3 years for CSG, Civil and trades, finding ways to help fill skills gaps. They are excited to release their new online packages to help build staff skills. Check out the skill builder range of short courses available online.
Upcoming events 
TSBE/FLA Christmas Enterprise evening
Our December Enterprise Evening is on the 14th at the Toowoomba Showgrounds. Come along and hear from TSBE and FLA on the year that was and the year to come in 2018. It's December, things haven't felt like they have slowed down, so why not grab an eggnog and a fruit mince pie and celebrate with us.
Golf Day
Do you have a team to take out past winners including Giovenco's (Dalby course 2017 ) Min Staff (Toowoomba 2016 ) or Blacks Toyota (Dalby course 2015)?
February 16, 2018 - Save the date for the Toowoomba and Surat Basin Industry Classic. We have a date and can now confirm this year's challenge will be held at the Toowoomba Middle Ridge Golf Club course. More information will be sent out in coming weeks, including expressions of interest for sponsors. If you are really keen, drop Katrina a line to get in first. First in, best dressed!