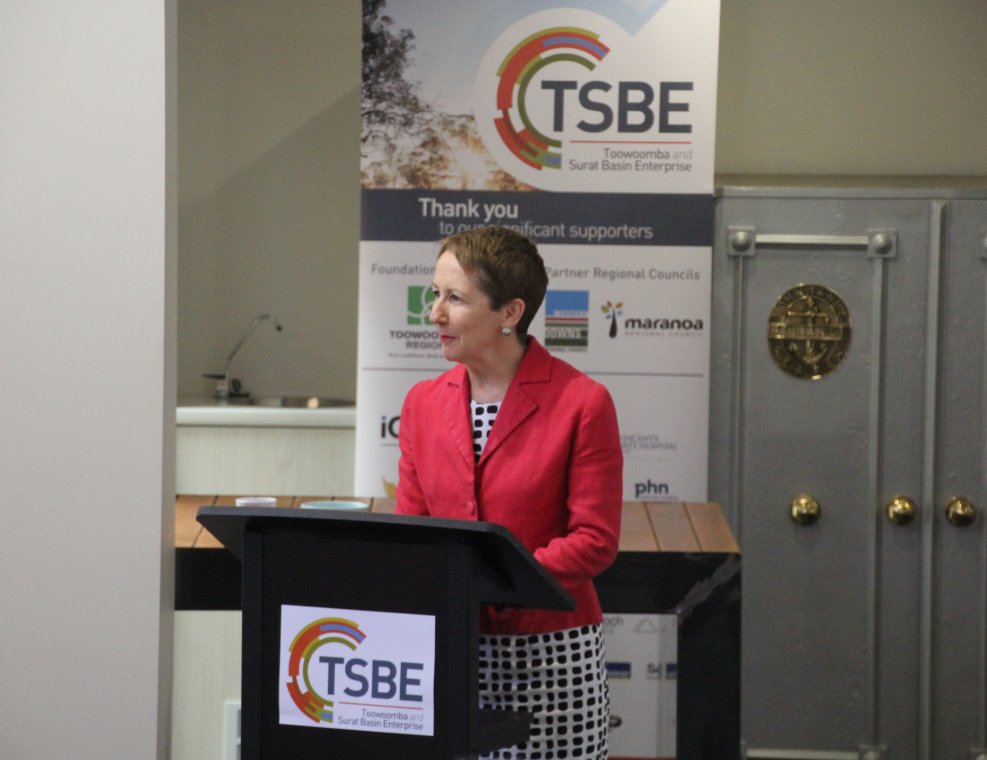 TSBE hosts launch of new initiative to support women experiencing disadvantage in the region with Hon. Dianne Farmer
Toowoomba and Surat Basin Enterprise today hosted the launch of a newly formed community initiative, The Toowoomba Women's Foundation.
This initiative was established by a group of passionate and influential Toowoomba women who have come together to support women experiencing homelessness and disadvantage in the Toowoomba Region. 
The Foundation is a community collective of skills, experience, connections, resources, commitment, vision and ambition to see tangible change and support for women.
The Foundation was officially launched this morning by the Honourable Di Farmer, Minister for Child Safety, Youth and Women and the Minister for the Prevention of Domestic and Family Violence. Also present were supporters including Toowoomba Region Deputy Mayor, Carol Taylor; Cr Nancy Sommerfield; Cr Anne Glasheen; Cr Megan O'Hara Sullivan; Cr Geoff McDonald; Member for Toowoomba South, David Janetzki; CEO of Goolburri Aboriginal Health Advancement Company, Lizzie Adams; CEO of QRME and Darling Downs Hospital and Health Board Member, Megan O'Shannessy; CEO of Toowoomba Hospital Foundation, Alison Kennedy; CEO of Darling Downs and West Moreton PHN, Merrilyn Strohfeldt; CEO of TSBE, Ali Davenport plus a number of women who are renowned in the region for their philanthropy, fund raising and assistance of charities and not-for-profit organisations. 
Founded by Amanda Dalton, who has worked for 20 years in the human services sector within homelessness, housing, Youth, and family support, Amanda noticed over the last 12 months the increasing number of single women without children and in particular older women experiencing homelessness.  This emerging trend is not only occurring locally but also on a national level.  2016 Census figures identified a 10% increase in women experiencing homelessness and a 30% increase in older women experiencing homelessness since 2011.
At the frontline, locally, there are significant numbers of women sleeping in cars, sleeping rough, in abandoned houses, garages and in a number of other unsafe situations. Contributing to this trend for women are the barriers they face after raising families and becoming single after a relationship breakdown, being out of the workforce for an extended period, lack of affordable housing, limited superannuation, limited employment options for women over 40, domestic and family violence and unsupported mental health issues. 
Founder of the initiative, Amanda Dalton, said the need is great in the Toowoomba Region and the first step is Protea Place, a safe day space in a homely environment for women to access showers, wash and dry clothes, have a meal and be supported by skilled staff and volunteers to access intensive supports towards housing solutions.
There are currently no  facilities specifically for women to have their basic needs met with dignity and safety in Toowoomba, hence the need for Protea Place. 
A grant submission for seed funding from the Queensland Government's Dignity First Funding has been submitted which would allow the project to commence very quickly prior to Christmas, which is a time of year that causes significant distress for those experiencing homelessness. Other avenues of community support including sponsorship and in-kind contributions are under way with Toowoomba being renowned for its generosity and support for those in need. 
TSBE CEO, Ali Davenport said this project, with the backing of so many incredible women, is poised to change lives and provide help for those experiencing homelessness.   
"The very first fundraiser for this initiative will be in November and will be called, 'In Her Shoes'. It will be a great chance for women to donate fabulous shoes that they never get a chance to wear, along with other items including designer handbags and clothing which will be sold in a huge garage sale style event. More details on this to come very soon," Ms. Davenport said.
For more information, please contact the TSBE office on 4639 4600.