With growing demand for trusted, clean and green food in Asia, and significant investment in infrastructure right on our doorstep, the opportunity now exists for Western Downs and Surat Basin producers and processors to grow into new markets. 
The Emerging Exporters Program, delivered by TSBE's FLA, is an initiative of Shell's QGC business and is a three-year program to see a cohort make inroads into these new markets. The social investment program, supported by Shell's joint venture partners Tokyo Gas and CNOOC, contributes to a strong and diverse economy within the Western Downs.
The program is giving local agribusinesses the support and tools to grow their business domestically, explore global export markets and develop products for longer term opportunities abroad. This support will be delivered through a series of tailored workshops, with an emphasis on export and one-on-one coaching delivered over a twelve-month intensive period, followed by a further two years support through TSBE FLA membership services. This program is for those looking to export in the short term, as well as those with a long-term horizon but wanting to make the right choices now for the future.
Watch a short introductory video about how the Emerging Exporters Program is a great opportunity for your business here.
Want to participate in 2022?
We are inviting interested food and agribusiness companies from the Western Downs and Surat Basin to indicate interest in participating in the program through a formal Expression of Interest. Please read more about the program here.
To find out more about the program please contact Justin Heaven on 07 4639 4600 or email [email protected].

Cohort Comments
"The Emerging Exporters Program has really helped us develop our export strategy and to better understand the complexities of export markets, logistics and cultures. The team at TSBE are very supportive and knowledgeable. When we first joined the program, we knew where we wanted to get to and with their help, we've developed the plan of how to get there. Starting an export program in the current environment hasn't been the easiest due to the challenges around logistics and staff but we have great logistics and retail partners and we're looking forward to the future." - Belinda Boshammer, SMA Marketing
"Devon Court Herefords was excited to be a part of the 2020 EEP program as it helped us to not only establish international connections but also develop our business model. The programs content has been a great foundational base for us to build on and TSBE's support throughout has been invaluable." - Tom Nixon, Devon Court Herefords
"We continue to develop our brand and grow our business, and with the support of the Shell's QGC Emerging Exporters Program we are working through a solid marketing strategy for future opportunities". - Steven Keating, Clover Hill Meats
"Our business has gone through significant growth in the past year and we see real opportunities in Asia. With the support provided by the program, we look forward to exploring these further." - Brian and Keeleigh Allport, Grassland Goats
"Being in a room full of like-minded businesses is a great opportunity to grow your knowledge base, while being able to have all your questions answered by people and businesses who have walked the road before you. It provided me and my business a better understanding of the process, and do's and don'ts and what to look out for when entering the export markets." - Alister Hughes, Rangeland Quality Meats
"We are thrilled to be participating in this program to develop and grow our business for the next generation." - Christine Morrissey, Morrissey & Co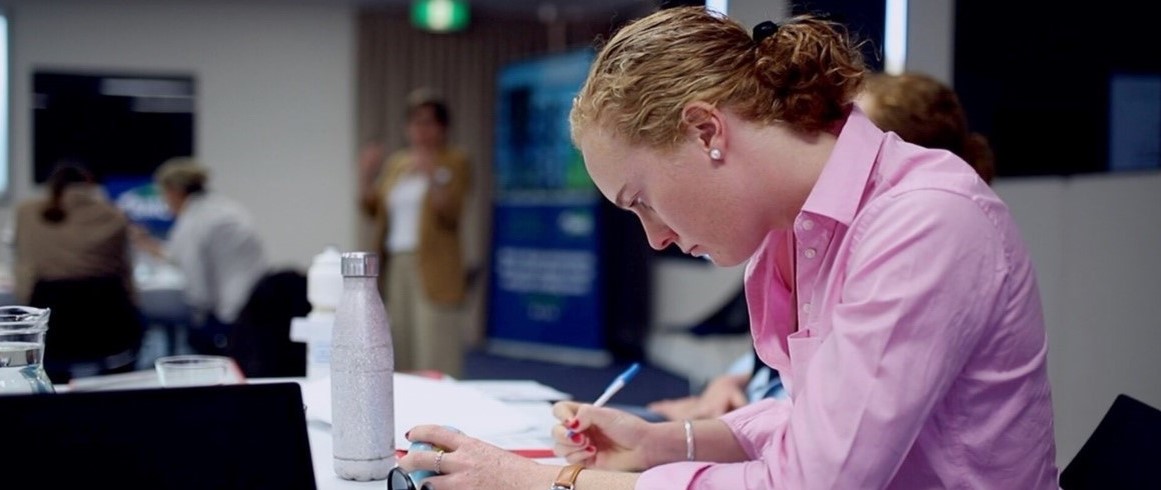 2021 Participants 
Shell's QGC Emerging Exporters Program for 2021 are a cohort of businesses ready to make inroads into new markets.  The successful businesses are Clover Hill Meats, Grassland Goats, Chris's Welding & Steel and SMA Marketing.
Chris's Welding & Steel
CWS Fabrication has been in operation for 18 years and has been providing turnkey manufacturing options for the agriculture and gas sectors. Their business model has seen the development of several unique products over several years without commercialising the products. Owner operator, Chris Olm invented the 'Depth Tyne', which delivers nutrients to the root zone of crops with minimal soil disturbance. As a result of making nutrient distribution more efficient for broadacre farmers, CWS has undertaken further field testing of the depth tyne and is ready to commercialise domestically and internationally.
Click here to watch the video.
Clover Hill Meats
Clover Hill Meats are a Chinchilla based beef operation that epitomizes the paddock to plate philosophy. Utilizing local businesses at every stage, the Keating family raise their heard on local pastures at the foot of the Condamine River before being fed in local feedlots. The cattle are than processed by the Chinchilla Abattoir, with the supply chain ending at the local Chinchilla butcher. The past few years have seen Clover Hill concentrate their efforts on building a domestic brand with supply of quality grain fed beef direct to the consumer and restaurant. The Keating family are particularly excited for the guidance that this opportunity will provide their business to grow sustainably across the domestic and global markets.
Click here to watch the video. 
Grassland Goats
For the past 3 years, Grassland Goats have been supplying a small amount of whole goat carcasses directly into the domestic market. Prior to diversification into the goat industry, Brian and Keeleigh Allport spent 30 years producing Beef. Their recent addition of a few goats was originally purchased to eat off regrowth. The Allport's realized the growing market and decided to capitalize on the opportunity to promote an alternative protein into the Australian diet. The Allport's want to export their premium goat product into South-East Asia and beyond. They believe the support of Shell's QGC Emerging Exporters Program will help them to develop their product further and learn to navigate the complex exporting process.
Click here to watch the video.
SMA Marketing
Established in 1995, Select Melons Australia Marketing is 100% owned by Australian farming families, with several Chinchilla families being founding members. SMA now have a significant domestic footprint with 7.5 years of trading, successfully capturing the domestic market supply. Tom and Emily Brett from Chinchilla are 2nd generation farmers and have been growing watermelons since 2010. They are now one of the key suppliers for SMA Marketing and are invested in the success of the group. Terry & Aja O'Leary from Paramagh Farming in Chinchilla are 5th generation farmers. SMA Marketing hope that this program will be able to assist them in developing an export business plan for export.
Click here to watch the video.
2020 Participants 
Six Western Downs businesses are participating in the 2020 program including Coggan Farms, Devon Court Stud, Fraser Valuers, Janke Australia, Morrissey & Co and Rangeland Quality Meats.
Coggan Farms
Coggan Farming is based near Meandarra, a family owned farming operation based in the Western Downs for over 80 years. The Coggan farming operation covers over 55,000 acres, with a diverse range of production including cattle and lamb feedlots, irrigated and dryland farming, extensive grazing operation and Meat Master stud. The Coggan family prides itself on being producers of high-quality protein for the Australian and International markets. "We are looking forward utilising the think-tank of the Emerging Exporters Program for developing our brand Lincoln Produce and long-term business planning" Mrs Coggan said.
Click here to watch the video.
Devon Court Stud
Devon Court Herefords is a third-generation farming enterprise, established over 110 years ago. The 250 stud females and 800 commercial cows are run alongside the grain farming enterprise by brothers Tom & Alex Nixon, with the business able to provide genetic traceability back to nearly 100 years. Tom Nixon said the business is proud to be a part of the program. "We are excited to be a part of Shell's 2020 Emerging Exporters Program to further develop our business, both domestically and internationally," said Mr Nixon.
Click here to watch the video.
Fraser Valuers
Fraser Valuers is based in Chinchilla, who are an independent local firm specialising in rural valuations across western Qld since 1987. Fraser Valuers provide a tailored service offering for customers from pre-purchase due diligence, financial lending valuations and ongoing support for rural property management. Fraser Valuers have extensive experience in rural, commercial, industrial and residential valuations, utilizing the most up to date data and technology available, including digital mapping software to ensure accurate valuations for our clients. "We are excited to be part of the Emerging Exporters Program, to assist our business develop a greater understanding of how we connect with sustainable investment opportunities for agriculture across the region" Business owner, Rob Fraser, said.
Click here to watch the video.
Janke Australia
Janke Australia is based in Dalby, providing a wide range of manufacturing services across the region. Downs Sheet Metal provides specialised manufacturing services of laser cutting, fabrication, pressing, CAD design, machining, and powder coating,  including the manufacture of a wide range of tool and fridge boxes. Janke Australia specialise in manufacturing superior seedling and tillage equipment for Australian farmers with a long history of innovation dating back to 1922. "With the learnings and support provided in the Emerging Exporters Program, we are looking forward to developing our export knowledge for future opportunities" Business owner, Mick Pearson, said.
Click here to watch the video.
Morrissey & Co
Morrissey & Co develop quality cattle equipment that is durable, easy-to-use and built to last in the harshest of climates. Morrissey & Co is a fifth-generation family owned and operated company, established in 1910. The business developed the first cattle branding cradle in the early 1960's. Business owner, Christine Morrissey, said she is pleased to be a part of the program. "We are thrilled to be participating in Shell's QGC Emerging Exporters Program to develop and grow our business for the next generation," said Mrs Morrissey.
Click here to watch the video.
Rangeland Quality Meats
Rangeland Quality Meats has grazing operation near Dulacca. Rangeland Quality Meats is a farmer-owned and family operated business, proud of their long history in the industry and production of premium 'paddock to plate' product. The business stands behind products they have fine-tuned over the 140 years their family has been grazing cattle in Queensland. "We are excited to be part of this years' Emerging Exporters Program to better understand the complexities of export and continue to build our business for the future" Mr Hughes said.
Click here to watch the video.
2019 Participants 
Four Daughters Premium Black Angus
Click here to watch their video.
Four Daughters Premium Black Angus is a Meandarra based, Black Angus grain fed feedlot production business owned by Karen and Dan Penfold. They are supported in the operation by their four daughters who have a passion for working on the land.  Each of them brings unique strengths and skills to day to day operations. By participating in the Emerging Exporters Program, the family are hoping to gain opportunities to expand their network of contacts to gain support and assist business growth, while getting insight into foreign market cultures and trade requirements. They aim to work towards sustaining a set monthly beef production and delivery into Wuhan, China. Mother of the four daughters, Karen Penfold said that they are hoping the program will also help to build the foundation for family succession planning giving their four daughters a future on the land. 
Haven Farming
Click here to watch their video.
Located in Drillham between Chinchilla and Roma, Haven Farming is a grass-fed, premium Angus and Angus/Wagyu cross beef production business owned by Greg and Louise McMahon. It began as a hobby, and they are now looking at the high-end premium beef domestic and export market. Through the Emerging Exporters Program, they would like to develop a customer focussed business model and connect with like-minded people who want to see the beef industry grow while getting a better product out the door. Louise would like to showcase Australian beef on the world stage.
Busy Beef
Click here to watch their video.
Busy Beef Founder, Jilly Tyler says that the goal of Busy Beef is to create a range of tasty, healthy, convenient food products based on secondary prime cuts. They have worked with local butchers to discover the best ways to do this using non-primal meat cuts to increase the sustainability of carcass utilisation. Busy Beef has a story that celebrates their rural roots and their desire to support rural communities. Jilly said that she hopes to more clearly define the business offering by learning more about business modelling and conducting consumer research throughout her involvement in the Emerging Exporters Program. She hopes to be export ready after 12 months.
Carpendale Commodities 
Click here to watch their video.
Carpendale Commodities is a vertically integrated farming, storage, trading and transport business servicing the Western and Southern Darling Downs. Trading Manager, Andrew Jurgs said that they are predominantly looking at a niche markets for wheat, barley, sorghum and chickpea commodities for trade and export. He believes that Australian grain as a protein has a wonderful story to tell. As Emerging Export Program participants, they hope to use the program as a steppingstone to build their brand and exposure through developing relationships and identifying niche markets in the international marketplace.
Hoofprints of Change
Click here to watch their video.
Hoofprints of Change is an equine assisted learning program, established locally by certified Equine Assisted Learning Facilitator, Vicki Mayne. Located a short drive from Chinchilla on Cumalong Farm, the business shares the beautiful location with their other business, Chinchira Super Reds, breeding Wagyu cattle. Vicki sees the Emerging Exporters Program as an opportunity to grow her network with key businesses, both domestically and internationally and to explore further the potential to export agritourism; connecting the Western Downs region with the rest of the world.
Dom Distribution 
Click here to watch their video.
Located in Dalby, Dom Distribution has previously exported Agri machinery to Asia.  CFO, Pat O'Brien said that the regional community has a diverse range of products to offer the Asian export market. Dom Distribution's Marketing Manager, Natarsha Collins said that as participants in the Emerging Exporters program they are hoping to get a solid foundation to identify markets and to develop long term sustainable export opportunities that they can share with their suppliers and growers. Pat O'Brien said that Shells QGC's input into the program is encouraging and introductions to the wider governing bodies is a big help and verifies that the business doesn't have to operate on its own.
Riverbend Marketing PTY LTD
Riverbend Marketing is the sales and marketing arm for the Riverbend Pork Group. A collective of independent Australian farming families who operate in lean, clean premium pork production, using innovative and sustainable farming practices.   Implementing high-tech animal welfare and modern farming techniques are a priority for the group.The group currently supplies product domestically, with some export experience. As a part of the Emerging Exporters Program, Jeremy Whitby of Riverbend Marketing Pty Ltd would like to gain a more in-depth understanding of the export process with a view to expanding into new domestic and export markets.
Aussie Pork Suppliers 
James Bredhauer's business, Aussie Pork Suppliers produces an innovative pork jerky, pork floss and shredded pork range of products geared towards the Asian market. The business sources pork from the Western Downs region for these unique products. With some experience in the export market, James sees the Emerging Exporters Program as a way to develop their business export strategy and business model.  With an emphasis on learning more about regulatory compliance, domestic and international consumer research, brand and market positioning.
Aussie Land and Livestock 
Aussie Land and Livestock, owned by James Bredhauer, has the ability to support inward investing enquiries for land, livestock and Agri-management consulting.
2018 Participants 
Running Gully Meats
Running Gully Meats is a vertically integrated, premium grass-fed beef producer based in Crows Nest, bordering on the Western Downs. Tara and Matt Barnes currently sell prepacked products online and are developing a business case and marketing strategy to increase their digital market audience and to discover potential export opportunities.
Jim's Jerky
Jim's Jerky produces, dispatches and retails a range of beef jerky products, domestically from the business headquarters in Charlton, with another retail outlet and office located in Toowoomba. Only premium beef goes into the making of the jerky range, which is sourced from processors in the Western Downs.
They are working with Emerging Exporters to research and build export markets. 
Mohawk International Pty Ltd T/A Teraform
Mohawk International is a vertically integrated algae production business with a focus on the nutritional supplement and cosmetic industry. The Miles based business is at the manufacturing stage and is working with Emerging Exporters to develop their marketing and branding, to obtain global market accreditation for their products and move into the export market.
Condabilla Fish Farm
Condabilla Fish Farm produces Silver Perch and Murray Cod for the domestic market sending weekly shipments into the Sydney and Melbourne markets. With a capacity to upscale, the business is participating in the Emerging Exporters Program to conduct in-depth domestic and export market research and to develop an export strategy and marketing collateral.
Maranoa Beef Pty Ltd
Craig and Bec Beissel produce premium grass-fed beef in their family beef production operation and are selling beef hampers locally via their digital platform. They also supply product to premium restaurants and a pie manufacturer in Brisbane.  As Emerging Exporter participants, they are looking to expand domestic opportunities and explore export.  A focus will be on upskilling accreditation and processes required to enter the export market.
DF & KJ Knudsen
With a focus on value-added beef production genetics, Darcy and Kara Knudsen operate a beef production company on the Western Downs border. As Emerging Exporters' participants, they are working on brand and marketing development and gaining an understanding of the accreditation, regulatory requirements and processes involved with export.
Elliot Agribusiness
Beef, lamb and goat production business, Elliot Agribusiness is owned by Shane and Jane Elliott, who also own a privately-run meat processing facility in Roma. They source product from Western Downs and Maranoa producers and sell the high value, niche boxed products into private butcher shops and restaurants in Southeast Queensland. They are working with the Emerging Exporters team to develop an export strategy and marketing program while gaining an understanding of the intricacies of the export market.
Carter Rural Industries/Procrew 
Rob Carter and Jess Lott own Carter Rural Industries, a beef cattle breeding and backgrounding business and ProCrew, an environmental vegetation management business. They joined the Emerging Exporters Program to help define the direction of both businesses going forward. Gaining an understanding of the export process and supply chain development required are also key focusses.
To find out more about the program please contact Justin Heaven on 07 4639 4600 or email [email protected].