A new hydrogen technology cluster, Southern Queensland Hydrogen Industry Institute (SQHII), has been established in Toowoomba within TSBE, in partnership with NERA (National Energy Resources Australia) and supported by the Queensland Government. A number of initiatives are underway at the bottom of this page with how to get involved.
CONNECT – ENGAGE - SUPPORT
Why should the hydrogen industry be the next energy industry opportunity?
Commercial production of hydrogen is one of the next big opportunities for growing the diversity of energy production in the Surat Basin.
Federal and State Government have identified hydrogen as the next renewable energy source to help our country and to lower emissions and meet net zero targets.
To drive lower emissions and eventual net-zero by industry, a source of green energy is required,  produced at solar or windfarms, by hydrogen projects for the green fuel's production.
With the emerging industry comes new jobs and transitional type jobs for existing workers.
What does this mean for our region and what are the competitive advantages?
New hydrogen has uses in sectors such as transport, local government wastewater, remote power generation and export.
The Toowoomba and Surat Basin region is an industrial precinct, with a skilled and experienced workforce which provides confidence and certainty to project owners looking to invest in the region. The region understands the opportunities from co-existence with other primary industry sectors like the agricultural, professional service and health to benefit through the value chain.
Project owners from our traditional resource sectors of gas, coal and oil production are looking to reduce carbon emissions and will consider blue and grey carbon capture projects.
Toowoomba and the Surat Basin has an abundance of green energy capacity. The uptake of green energy production will maximise the energy infrastructure that has already been built and will ensure longevity by reducing reliance on traditional energy production.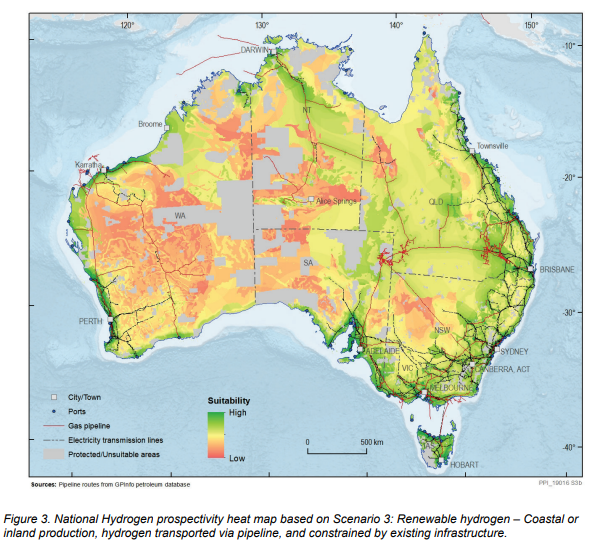 The Surat Basin energy province has established transport distribution networks, and for gas has world class production facilities and transmission pipelines.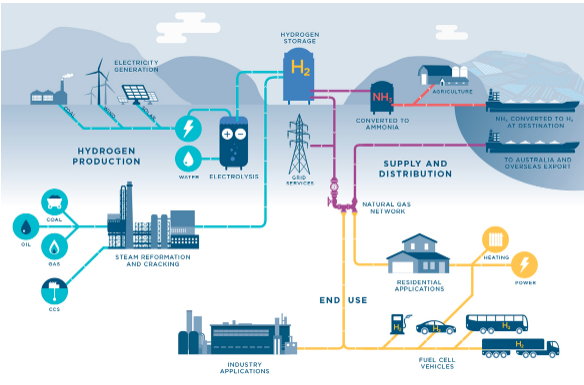 Source: A National Hydrogen Strategy: Shaping possibilities for Australia's hydrogen economy - Lexology 
What does this mean for business and suppliers?
The SQHII represents a number of companies from industries interested in the region's development of hydrogen and are looking at diversifying their capability to support hydrogen projects. There is current interest from these companies in production, storage, transport & distribution and are also potential end-users. They also are designers, constructors and companies that operate and maintain facilities. SQHII is to link the firms involved and support any projects that emerge from the group.
SQHII is to link the firms involved and support any projects that emerge from the group.
CS Energy's Kogan Creek Hydrogen Demonstration Plant Hydrogen Mapping Project
CS Energy's Kogan Creek Hydrogen Demonstration Plant is the regions' first funded project for construction set for mid 2022. The project in Chinchilla will produce alternate fuel in the form of hydrogen for the 'hard to decarbonise' long-haul transport industry. Check out this video to find out more about exploring the potential of hydrogen here. 
Regional businesses can register their capabilities through a Hydrogen Capability Mapping questionnaire, designed to help major project buyers understand our contractor network and the goods and services available in this region. Completing the questionnaire and registering will increase the visibility of the business and provide insight into where they can target work packages on major projects, such as hydrogen.
The outcomes of the Hydrogen Capability Mapping Project will provide valuable information on local capability and identify opportunities for local businesses in the supply chain, allowing them to upskill as well as attract new organisations to the region.
This mapping project will collect data to help us get a big picture view of local capability and provide information that will open the door for further discussions around training and upskilling for the future.
Where to register your hydrogen capability?
Businesses can provide their details and nominate their skills sets against a list of major procurement items, goods and services, professional and social services. Together, with general business information, this will allow TSBE to produce a directory to showcase our regional supply chain which will play a significant role in industry development throughout the supply chain.
To get started on your business capability questionnaire, register here.
For more information please contact Reagan Parle, TSBE's Senior Project Manager- Energy and New Industries, at [email protected].