We're in your corner
A TSBE membership will assist your business to link with the opportunities in the region by accessing increased business exposure, personalised support, targeted networking and assistance at a variety of levels.
Contact TSBE today to discuss how membership could advance your organisation and contribute to a brighter future for the region.
2021 - 2022 Membership Prospectus  
New Member Application Form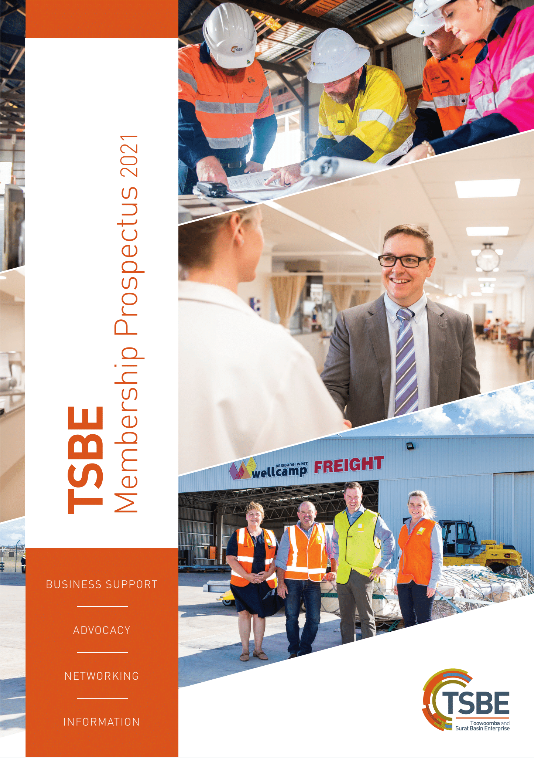 Sign up online
Select 'login' on the TSBE website and create a personal account
Log into the TSBE website using the temporary password sent to the chosen email address
Change your password by clicking 'login details' under 'my portal'
Log back into the website and create a business profile under 'my portal'
Once completed, click 'join now' under the membership tab and select the level of membership
Arrange for payment
Here are what our members say:
"TSBE drive the greatest interaction, leadership and engagement for a business network organisation. Across Australia we are yet to witness a more passionate and results driven business network group. This is incredibly important to us as the success of our brand and core focus of our business is to ensure we enjoy the best relationships not only with our customers but our suppliers and marketing partners. TSBE ensure that all members, partners and the region in which they are the economic custodians thrive and grow. Continuous improvement is an important driver within their model; leading to a sincere wish for constant feedback. Our relationship with TSBE will always to be rewarding as we believe their vision and innovation is in line with ours."

Andrew Percival, National Market Development Manager
Tindo Solar
"There are many reasons throughout normal trading conditions, why our partnership with TSBE is crucial. Now more than ever, we realise how integral TSBE is to the wider business community. I'm extremely impressed with the level of professionalism, the flow of critical updates and information from TSBE to all of us at such a testing time. I feel TSBE has again stepped up to the plate like they always do reinforcing their organisation's ethos of always being there for businesses when we need it most, whilst continuing to connect businesses where they are needed most. It's during times like these you get to see what organisations are made of, and I have to say from the top down throughout the entire TSBE team, they are showing us just how impressive and professional they are."
Gus Romero, Proprietor
Harvey Norman Commercial
"As a fellow Toowoomba based business, Master Hire is proud to be a founding member of TSBE. Over the years, many Master Hire staff have attended various events hosted by TSBE across the Darling Downs and South East Queensland and have found these events a great opportunity to meet new contacts, catch up with old friends and gain insights into new construction projects, oil and gas developments and more recently, renewable energy plans. The EconomX platform provides accurate and timely project leads and the TBSE Business Development team have introduced Master Hire to many key contacts on several projects. Any company looking to expand their business activities on the Darling Downs and Surat Basin region, should strongly consider joining TSBE."
Matthew Prendergast, Regional Manager - Darling Downs & Lockyer Valley
Master Hire

*Please note all memberships require a 12 month commitment from your joining date. If paying monthly, once the first 12 month term has passed, you will automactially be renewed and your commitment is then month by month until you advise TSBE of any changes. 
Annual Membership - $396
To be eligible for this membership your organisation must be Not For Profit. Follow the link for more information.