We're in your corner
A TSBE membership will assist your business to link with the opportunities in the region by accessing increased business exposure, personalised support, targeted networking and assistance at a variety of levels.
Contact TSBE today to discuss how membership could advance your organisation and contribute to a brighter future for the region.
2020 - 2021 Membership Prospectus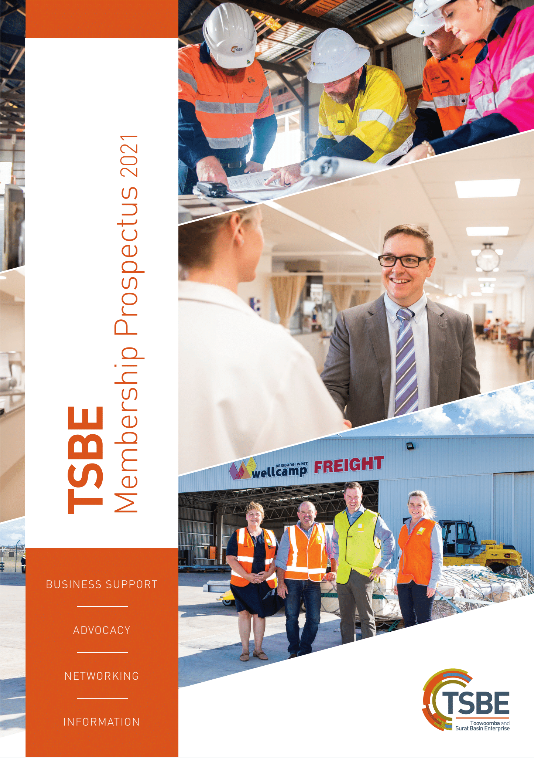 *Please note all memberships require a 12 month commitment from your joining date. If paying monthly, once the first 12 month term has passed, you will automactially be renewed and your commitment is then month by month until you advise TSBE of any changes. 

"As a foundation member of TSBE we are constantly impressed with the high level of assistance and professionalism of all TSBE staff. Over the previous 12 months TSBE has continued to be instrumental in providing key introductions to relevant decision makers, stakeholders and likeminded business within and outside the region. In particular, the assistance and advice provided by Lance and Reagan through the procurement process for Stages 1 and 2 of InterLinkSQ has been invaluable and again shows theirs and TSBEs unwavering loyalty to our region and commitment to transparency and integrity.  At Freight Terminals, we very much look forward to our continuing involvement with TSBE into the future."
10/11/2016 – Blair Batts, General Manager, InterLinkSQ
Annual Membership - $396
To be eligible for this membership your organisation must be Not For Profit. Follow the link for more information.