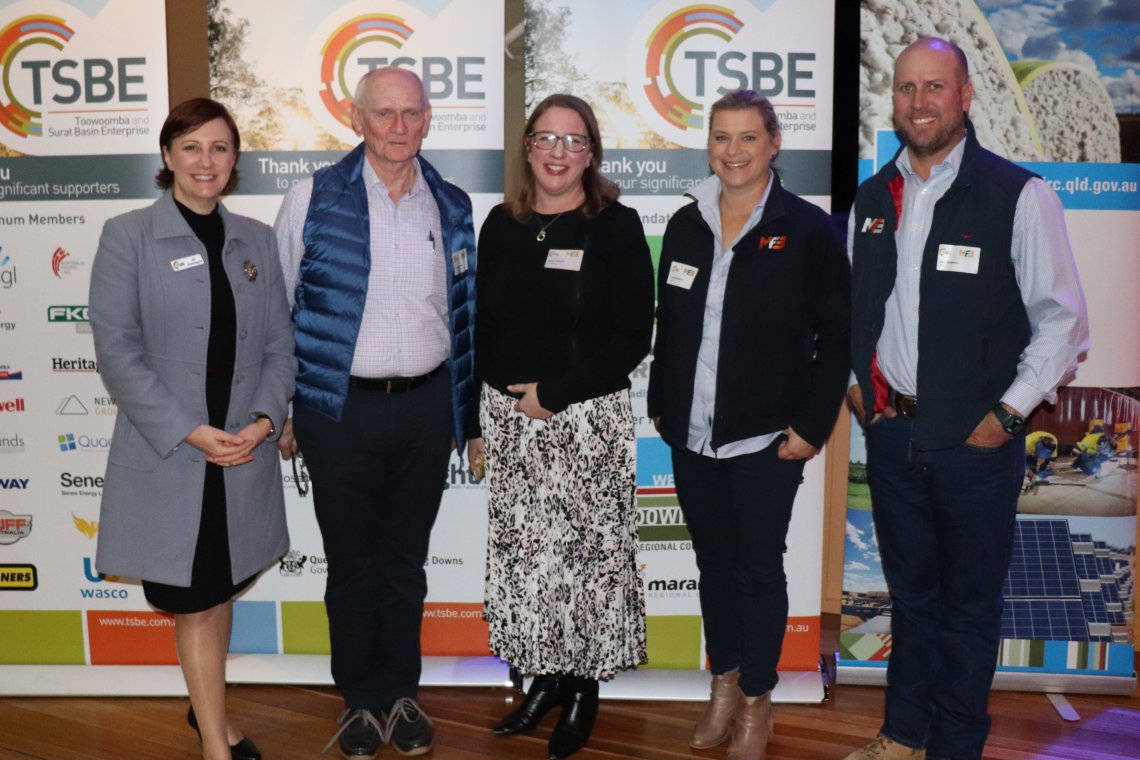 Hydrogen sector to generate major opportunities in Western Downs
National and global experts shared how the region could be a major player in the hydrogen industry, at a Hydrogen Summit attended by around 200 people.
As the country moves toward a transition of renewable energy production it was an opportune time for Toowoomba and Surat Basin Enterprise (TSBE) to host this summit in Chinchilla last Thursday night.
Emma Roberts, Head of Future Energy at CS Energy said the opportunities for hydrogen production in the region are far-reaching.
"This is particularly true in South West Queensland, where there is heavy reliance currently on diesel as a fuel for long haul road transport and mining activities," she said.
Ms Roberts gave an update on CS Energy's feasibility study for a purely renewable hydrogen demonstration plant, which if built, will be located adjacent to the Kogan Creek Power Station.
"We have almost completed a joint feasibility study with IHI Corporation Japan into the demonstration plant and the results are very promising.
"It was exciting to attend the hydrogen evening to connect with other TSBE members who are interested in the renewable hydrogen value chain," she said.
Leigh Kennedy, NERA's National Cluster Development Manager said Queensland is punching well above its weight when it comes to hydrogen.
"Australia really has those competitive advantages not only through our national resources, but the skills we already have whether it be oil and gas, renewables, traditional power or mining.
"There are all these skills, expertise and existing infrastructure that the hydrogen industry can leverage and really take advantage of to make sure that Australia is a leading player," said Mr Kennedy.
There is both global and domestic demand for hydrogen, which together with emissions targets, are driving the development of hydrogen projects.
Professor Ian Mackinnon, Centre for Clean Energy Technologies and Practices told attendees about the current changes happening across the world.
"The changes started as a bit of a slow burn but for many reasons not the least of which was COVID, it has sped up dramatically.
"We need to start looking at the globe and the way it's operating, not only socially but also in the way that we generate energy and use energy," said Prof Mackinnon.
Western Downs Mayor, Paul McVeigh also spoke at the summit which was sponsored by local business MFE, saying he's excited by the opportunities the future energy sector will bring.
The importance of the industry for our region was made especially important, following the announcement of a new hydrogen technology cluster in Toowoomba last month.
In partnership with NERA, the Queensland Government committed $50,00 to establishing the new Darling Downs cluster within TSBE to work alongside the already established H2Q cluster in Brisbane.