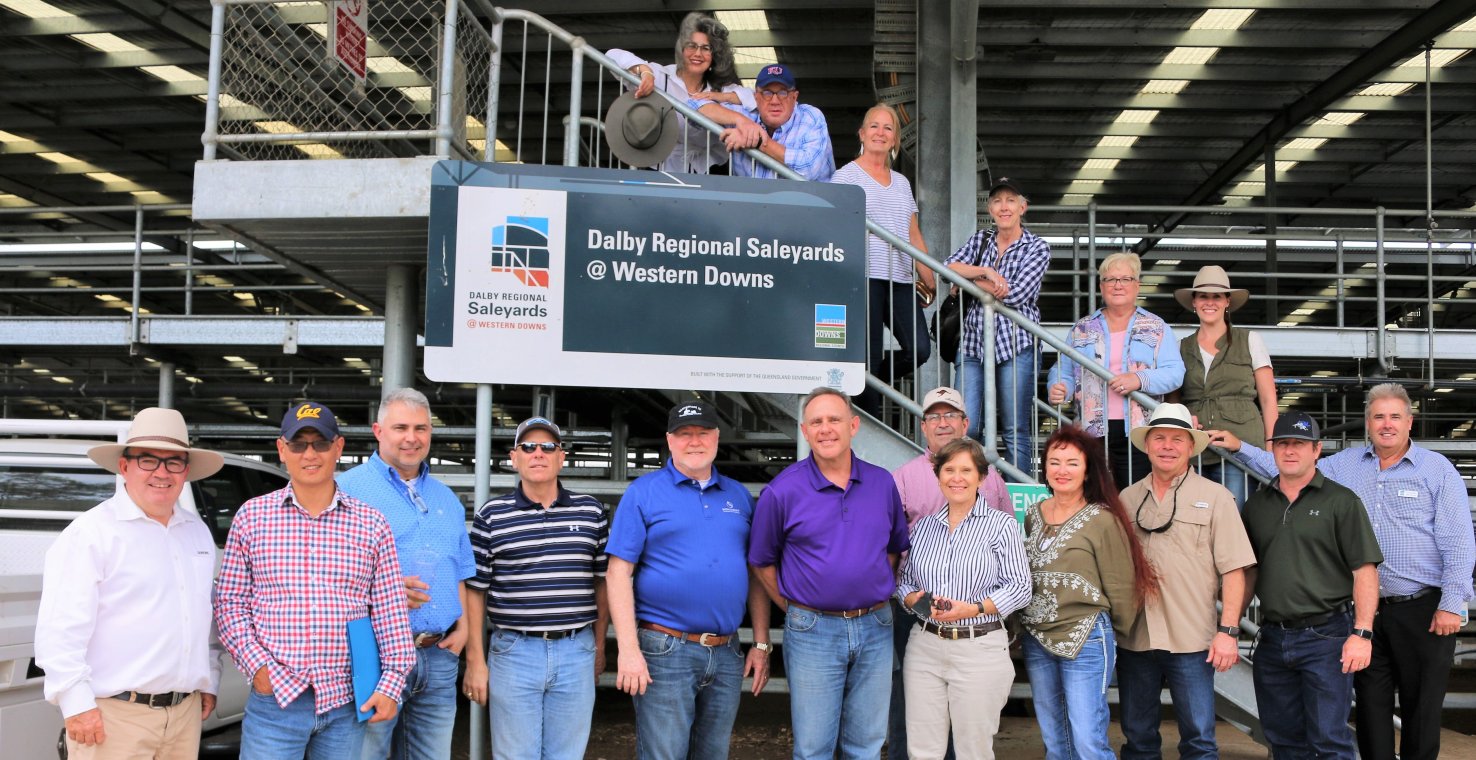 Media Release: Texas and Queensland: twin powerhouses in agriculture and natural gas
Toowoomba and the Western Downs region in Queensland were on show this month as sixteen business leaders from Weatherford in Parker County, Texas embarked on a six-day tour to better understand the economic success of the area.
The delegation, including a Weatherford city councillor, bankers, a local judge and business owners, were in the region to drive partnership development between local businesses and use the Toowoomba and Surat Basin region as an example of economic development that they could utilise back home.
During their tour of our region they visited the Western Downs including the Dalby Sale Yards where the Americans showed strong interest in local agriculture ventures.  They were interested to see the coexistence of gas, agriculture and small business contributing to grow the regional economy, which has been a nation-leading example of economic development.
They made many business connections during their visit and were impressed with the robustness and vibrance of the economy of the Western Downs which is underpinned by the gas sector.
They noted that gas has continued to deliver extensive investment into the Western Downs economy thanks to export markets and demand for domestic gas supply security. According to the Queensland Resources Council the resource sector has provided $374 million or 10% of the Gross Regional Product for the Western Downs in 2017/18.
The Texan business leaders used their time to create strong connections in the region providing opportunities for our local businesses to set up in Texas. There are several Toowoomba businesses already establishing themselves in Weatherford including Norseman, TTQ, Selected Seeds and Better Built Sheds.
Geraint Hudson, Director of TTQ, a manufacturer and supplier of farming equipment said, "we've been looking for the right place to set up a base in the US for a couple of years and we think we have found it in Weatherford. It has everything we need and Texas just feels like a home from home for us."
Ali Davenport, Toowoomba and Surat Basin Enterprise (TSBE) CEO said "it is great to see Toowoomba-grown companies expanding overseas and we welcome the chance to showcase our example of agriculture and gas coexisting and benefitting each other."
The delegation enjoyed visiting Wellcamp Airport, FKG Group, Wagners and the University of Southern Queensland and some local schools, and the leader of the group, Jim Eggleston spoke at a sell-out TSBE function.
Mr Eggleston, who is also the Chairman of the Economic Development Council at Parker County said , "we came to look at the different ways that we do business and investigate your ag technology advances."
"Our goal was to meet people, develop relationships and learn a lot – we were looking for opportunities for investment and ideas to apply in our region of Texas. We certainly achieved that but also made some wonderful friends in the process," said Mr Eggleston.  
"Our region can also learn a lot from the Weatherford region, with their economy based strongly around similar agricultural products, oil and gas assets and their desire to continue to improve the way they do business. It is important for businesses to consider diversification and their options internationally," said Ms Davenport.
Alicia Doherty, General Manager QLD for the American Chamber of Commerce made the introductions between TSBE and the Texan delegation and was pleased to see such a success outcome of the trip and what that could mean globally for the region.
"There is globally-renowned work being done at the nexus of agriculture and technology in Queensland and more broadly across Australia. The economies of Texas and Queensland are both driven by the twin powerhouses of agriculture and natural gas, so it has been opportune for the communities of Weatherford and Westerns Downs to meet and share learnings. It also sets the scene for even more Australian businesses to join the United States supply chain, and make their global mark," said Ms Doherty.
For more information please contact Kristy Hayes on 0419 490 355.