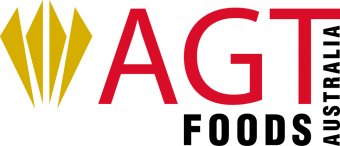 About Us
AGT Food and Ingredients is one of the largest suppliers of value-added pulses, staple foods and food ingredients in the world. We buy lentils, peas, beans and chickpeas from farmers around our 40+ facilities located in the best pulse growing regions in Canada, the United States, Turkey, Australia, China and South Africa and ship our products to over 120 countries around the globe. We create value for producers, quality products for our customers and growth for our shareholders.
AGT Foods Australia, a division of AGT Foods, is headquartered in Toowoomba, Queensland — one of Australia's largest production areas for pulse crops, with state-of-the-art production facilities in Horsham, Victoria;  Narrabri, New South Wales; Bowmans, South Australia; as well as cleaning and exporting facilities in Kadina, South Australia. These facilities feature cleaning, sizing, splitting, colour-sorting, and packaging capabilities for lentils, chickpeas, yellow peas, faba beans, broad beans and specialty crops.
AGT Foods Australia – Proud winners of the 2017 Premier Of QLD Export Awards for Agribusiness.
Corporate Office:
Ph:  07 4633 9600
Web: www.agtfoods.com