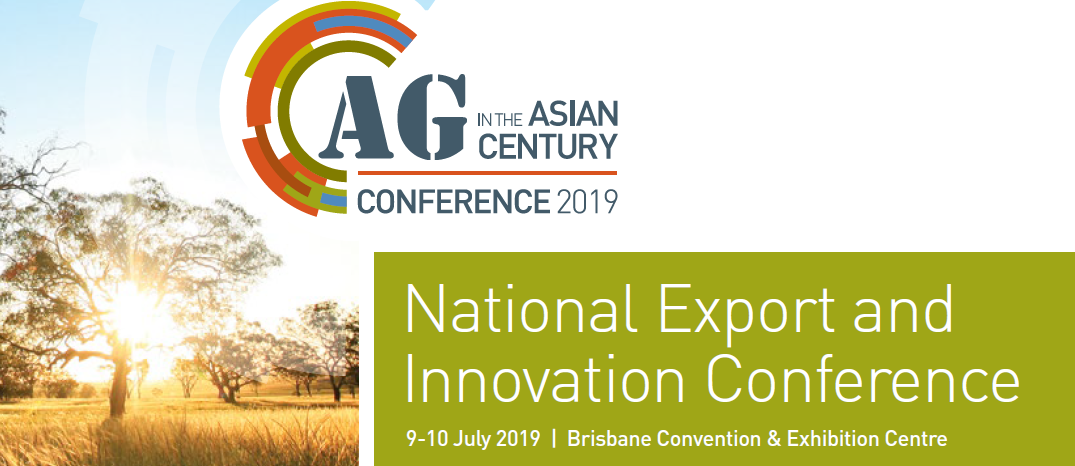 Ag in the Asian Century
9:00am Tuesday, 9 July 2019
5:30pm Wednesday, 10 July 2019
Brisbane Convention and Exhibition Centre
Merivale St & Glenelg Street
Brisbane
,
Queensland
4101
Australia
Join us in Brisbane next week for the 2019 Ag in the Asian Century National Export & Innovation Conference. Featuring industry-leading speakers, delivering practical knowledge and the latest information, the 2019 conference built on what transpired at past events, taking our search for innovation and export opportunities in the Asian market to the next level.
Asian demand for Australian produce
Demand from Asian consumers for high-quality Australian food continues to grow, as China remains the top purchaser of Australian produce. Australia beef exports to China increased, with other meats doubling their export capacity. And, as we are all aware, this demand is set to exponentially increase. In the coming decades, Asia's demand for food will double as consumer preferences evolve to desire high quality, safe and reliable food from trusted sources, with Asia's middle-class population with significant discretionary spending growing six-fold to 3.5 billion.
Our Asian neighbor's consumption of dairy, fruit and vegetables, beef, grain, and wine will skyrocket as their demand for convenience foods, fresh foods and drinks will drive our food producing, manufacturing and value-added businesses to deliver these products with added nutrition and health benefits.
9-10 July 2019 Conference
The conference will be focused on export and innovation opportunities in the Australian agriculture and agribusiness sector to capture Asian Century prospects.
The event is set to highlight emerging and opportunities in the Asian Century, including:
• What does the growing demand for food and agriculture products in Asia really mean for Australian businesses?
• How will export and innovation play a crucial role in any strategy to capitalise on this growing market trend?
• Where do the real opportunities lie and how are Australian businesses ready to capitalise on Asian prospects?
This year's event will be co-located with The Asia Pacific Cities Summit (APCS) and Mayors' Forum. This is their region's premier civic Summit that brings together one of the largest number of city leaders with the best and brightest in business. Today, cities are increasingly recognised as key influencers, connectors and contributors to the global economy and the Summit is the platform for connection and knowledge exchange.
Being co-located with this globally relevant civic Summit will see the opportunities for trade grown exponentially.  With civic leaders in the venue at the time to assist in taking discussions to actionable outcomes at the one location.. The conference again secured a wide range of national and international speakers and focused on export and innovation opportunities in the Australian agriculture and agribusiness sector as we build competency together to take advantage of the Asian Century prospects.
Why should you attend?
Do you believe the growing Asian markets may provide an opportunity for the future of your business? Are you currently exporting to Asia but need to expand your network and grow your understanding of key markets? Do you need to appreciate how investment and innovation can lift your business to another level? Then this is a must attend event for you.
Investment, technology, innovation, market intelligence, premium customers, packaging, branding, social media, Free Trade Agreements, the E-Commerce opportunity, transport and logistics solutions and much more. Multiple days of information, relationship building and entertainment. Join us for the 2019 Ag in the Asian Century, National Export and Innovation Conference
TSBE Member price $395 | Non Member price $495 (full access to the two-day program)
Contact Information
Not yet a member of TSBE? TSBE members receive a discount off all event tickets. 
Please contact TSBE for more information.
Additional Information
Thank you to our event partners: