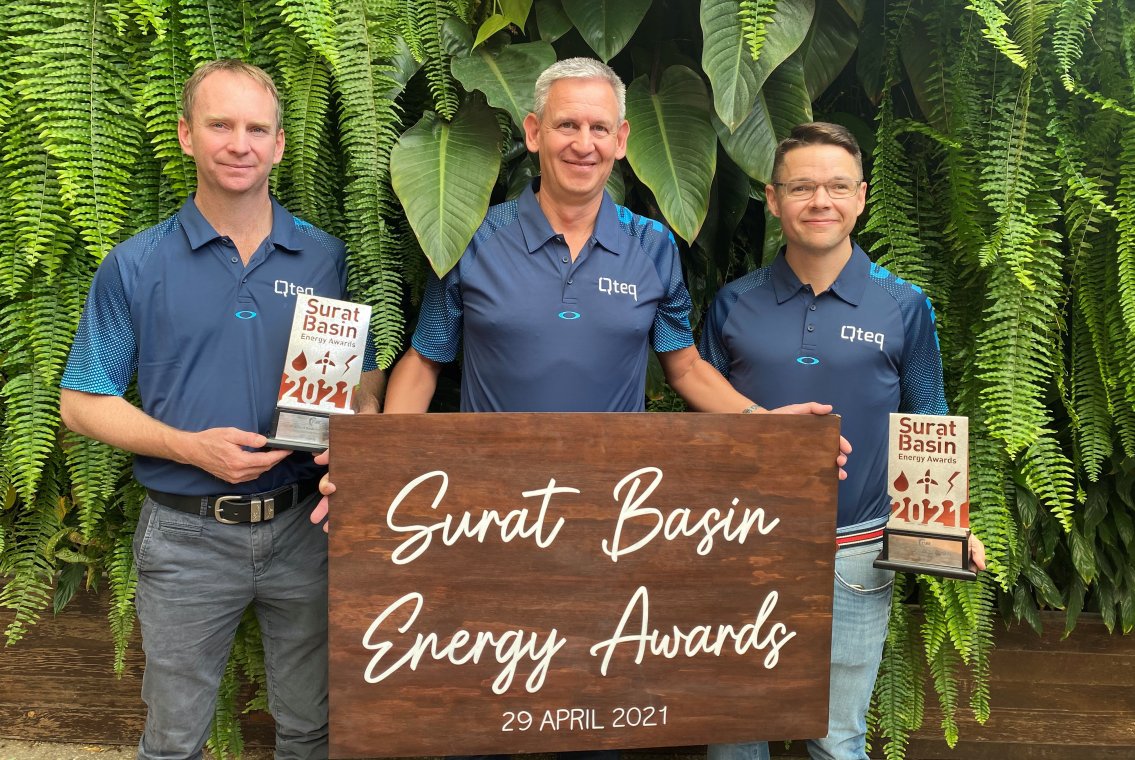 Energy Awards light up the region
Dalby recently played host to the inaugural Surat Basin Energy Awards with nearly 300 business leaders celebrating the energy sector.
These awards showcased the economic contribution and the positive impact the gas and energy sector has made to the Surat Basin region.
The awards recognised and rewarded the leaders across 13 award categories, which attracted more than 100 nominations.
One of the award winners was Senex CEO Ian Davies, who took out the Leadership Award which was sponsored by Australian Gas Industry Trust.
Mr Davies said he was absolutely honoured to be recognised. 
"It's about the team, and it's about the industry and the industry is amazing."
"What Queensland has done for gas supply for the east coast of Australia is beyond words, and what Queensland has done for the GDP contribution of Australia is beyond words, and needs to be protected," said Mr Davies. 
Mr Davies chose to donate his $5000 personal development prize to schools in Roma, with Senex matching the contribution.
Toowoomba company Qteq took out two awards on the night, winning the Safety and Environmental categories.
General Manager, Jeremy Phillips said he was ecstatic to be recognised twice.
"We didn't expect to win two awards, we're very privileged."
"It means a huge amount for our company and our vision in particular, and it's nice to know that we're being recognised for the efforts we are doing within the region," said Mr Phillips.
The final award of the night went to Andrew (Alf) Garnett in the Industry Legacy Award, sponsored by Arrow Energy.
Mr Garnett admitted he was a bit stunned to win the peer nominated category.
"It's a recognition that this community in this region has done a phenomenal amount of things, it's a fantastic story, but it's not just my story," he said.
"It's important to celebrate success, particularly when it's hard won."
"People have been through some hard yards particularly in the industry of development, and of course with the background of the external environment issues with droughts and floods."
Federal Minister for Energy and Emissions Reduction, Hon Angus Taylor MP was a special guest speaker, telling attendees that the region is one of the great innovators in Australia.
"There's no question about that, whether it's in agriculture, energy or manufacturing, I see innovations here," said Minister Taylor.
"I've seen them today as I've been heading around the region."
"These are world leading industries that you're participating in, you've got to be globally competitive and the truth is that what we're seeing around this region is world leading and I really congratulate all of you for what you're doing," said Minister Taylor.
Toowoomba and Surat Basin Enterprise (TSBE) CEO, Ali Davenport, said the Surat Basin is a hub for energy supply, with use in Australia continually changing.
"We are the energy capital of Queensland and we wanted to celebrate the achievements in this industry that has been powering our country."
"As our region moves towards becoming the energy capital of Australia, it was excited to host the Surat Basin Energy Awards to celebrate the people, businesses and industries that have shaped the region."
"Australians are using energy more productively as new technologies are being implemented and as our economy evolves."
"The Surat Basin is the largest producer of Coal Seam Gas in Australia, and also has the largest pipeline of approved solar farms in Australia, as well as thermal coal production and now wind farms," Ms Davenport said.
These awards were hosted in conjunction with event partners, Western Downs Regional Council. 
Western Downs Regional Council Mayor, Paul McVeigh said, "this event shows off the capacity and excitement around the resource sector and what it does for our community; it brings jobs and it underpins our economy."
Congratulations to all the winners in each category are:
Safety Award - Qteq
Local Content Award- MPC Kinetic
Environmental Award - Qteq
Co-Existence Award - Hewitt Cattle Australia
Community Award - Heart of Australia
Export Award - Assess Orr
Indigenous Achievement Award - MPC Kinetic
Innovation Award - Auscoil
STEM Award - Origin Energy
Leadership Award - Ian Davies (Senex Energy)
Health and Wellness Award - RiE Group
Industry Legacy Award - Andrew Garnett
Apprenticeship and Training Award - MFE