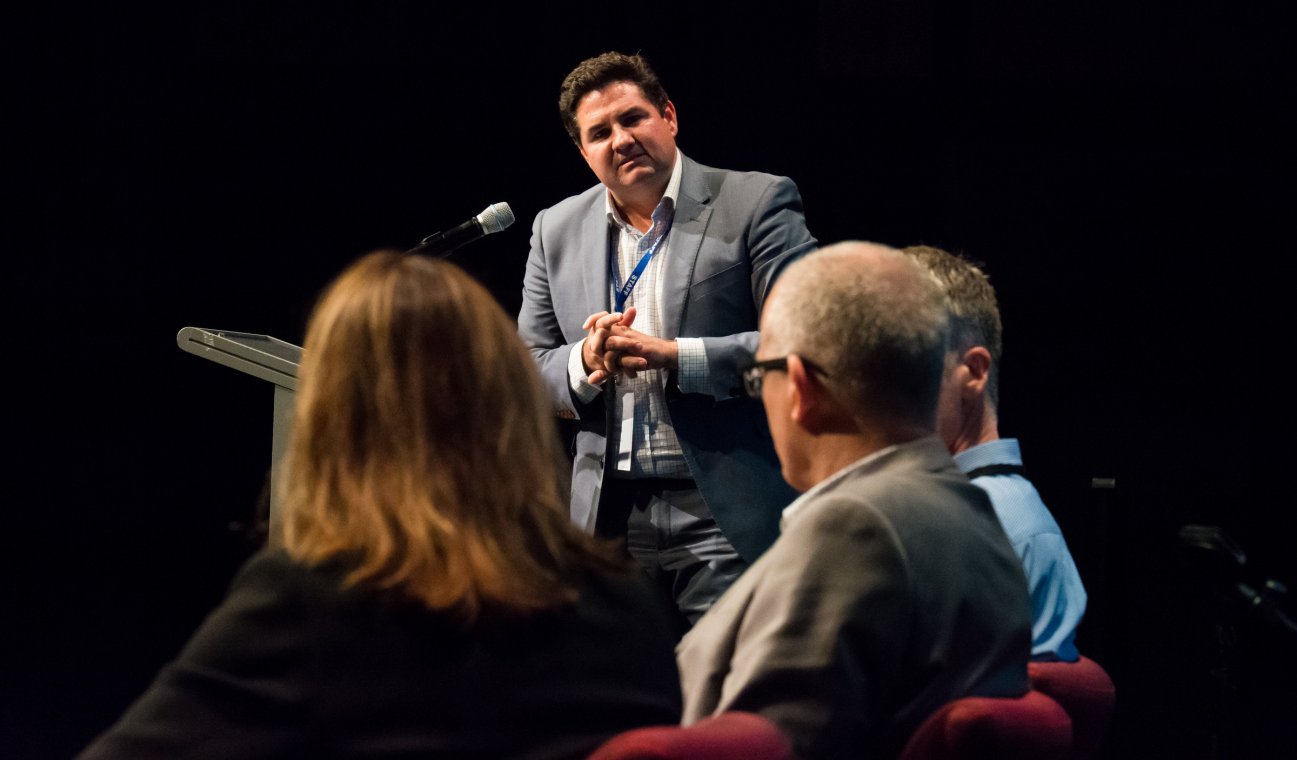 Food Leaders Australia CEO Ben Lyons looks to new role and opportunities in region
Food Leaders Australia CEO Ben Lyons has announced he is leaving his role with the company after accepting a private opportunity in the region.
Dr Lyons returned from China in 2015 as Toowoomba and Surat Basin Enterprise CEO, before going on to direct the growth of then-newly formed Food Leaders Australia organisation as CEO.
Dr Lyons said his time as FLA CEO had been marked by major milestones in the region for agriculture, producers, and agribusiness.
He said some of the highlights included working alongside other stakeholders to establish the Cathay Pacific freight flights through Brisbane West Wellcamp Airport as well as the first international passenger flight from the airport to Shanghai last year for AccessChina'16.
"Helping to convince Cathay Pacific to believe in the region as export capable, off the back of its agricultural expansions, is a great achievement that we see every Tuesday night as the plane comes in," he said.
"It's been rewarding to see established companies like Oakey Beef crack their China market and overcome access issues.
"To see all of the horticulture companies that came on AccessChina'16 expanding and looking to export shows the power of our region's capability.
"There's a lot of opportunities yet to be tapped and we've proven that with insight, private and public investment, collaboration and innovation, our region's story is still developing."
Dr Lyons said the QGC/Shell Western Downs Eastern Opportunities project that further developed export pathways for producers was another highlight of his work with FLA.
"It's been amazing to assist in the journey for our smaller producers, finding their own path to the export market, and that project is one that has continued long past AccessChina'16."
He said the recent second annual 400m AgTech Investment Forum was another strong indicator of what could be achieved in the agribusiness space.
"I'm staying in the region with my family. I believe in the region and I'm a great believer in what TSBE/FLA can achieve and the work they still have to do," he said.
"We have a pan-regional approach to how we do business, and we need to think bigger than just Toowoomba. We have to build up the regions around us and to build the capability of the wider area."
Dr Lyons will finish in his role as CEO at FLA on May 31, while continuing to consult for TSBE and FLA on projects including Activate China and Access Hong Kong.
TSBE executive chairman Shane Charles said Dr Lyons had been an instrumental and driving force behind agricultural growth.
"The region's profile as the agricultural hub of Australia has been strengthened under Ben's leadership, and we've seen that promoted and developed through conferences like 400m AgTech here in Toowoomba," Mr Charles said.

"The achievements for FLA under Ben cannot be understated, and we've seen growth, emerging markets and export develop along with the capability of our producers.

"We wish Ben all the best in his future role and know he will continue to play his part in agribusiness in the future."
FLA will continue to host a suite of events for its members that support networking, inbound investment and outbound export opportunities, as well as collaboration and innovation.
A general manager will be sought to fill the position.