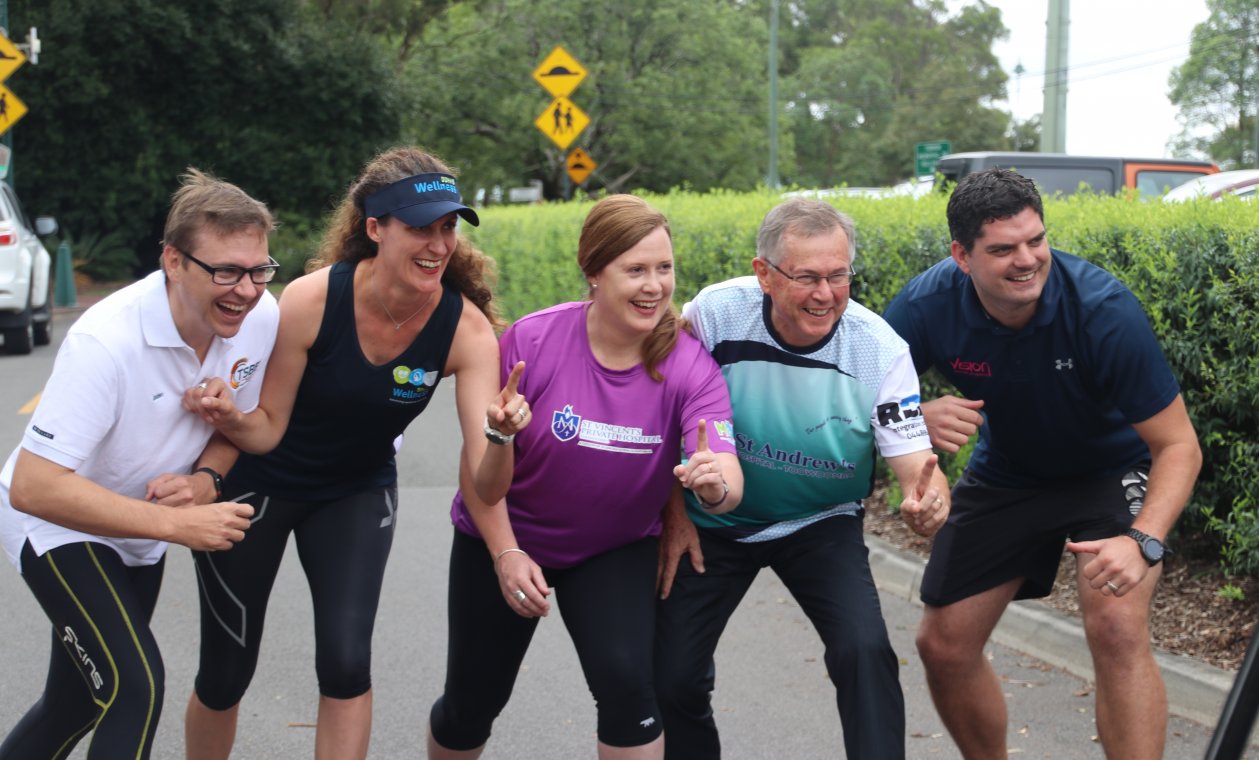 Health leaders don their lycra to combat obesity
With Toowoomba having one of the highest rates of obesity in the state, local health professionals have stepped out in their lycra and muscle tees to tackle the issue.
Donning their fitness apparel this morning, representatives from each of the city's three hospitals are leading their teams in the annual Movesmarter Corporate Challenge - Battle of the Hospitals, which will culminate at the Peak2Park on Sunday.
Competition is fierce, and all the teams taking part in the challenge are this week making final preparations in readiness for the 4km and 10km events including the teams from St Vincent's and St Andrew's Private Hospitals, as well as Darling Downs Hospital and Health Service (DDHHS) and Toowoomba and Surat Basin Enterprise (TSBE).
Toowoomba has 35.8 per cent of people seriously overweight, according to recent Heart Foundation data, and that is not something to be proud of.
So to help make our region healthier, staff from each of the three hospitals in Toowoomba have signed up for the Movesmarter Corporate Challenge, organised by Vision Health, and are pitting themselves against each other for the ultimate in bragging rights.
Toowoomba has been ranked as having the third-highest prevalence of obesity in Queensland, with the Wide Bay area coming in second, and the Darling Downs-Maranoa coming in first with 38.2 per cent of the population classed as obese.
Toowoomba's obesity rates are 5.4 per cent above the state average and 7.9 per cent above the national average, and this is just not good enough, according to St Andrew's Toowoomba Hospital chief executive officer, Ray Fairweather.
Mr Fairweather said St Andrew's was "leading by example", and had a team of 30 taking part with a "waiting list" of staff wanting to participate in the Challenge.
"This is a fantastic motivation for staff to be more physically active. Not only is the challenge competitive between hospitals, it is also competitive between individual staff members," Mr Fairweather said.
"Staff attend a weekly briefing from Vision Health to review aspects of the challenge which includes nutrition, sleeping habits, water intake, relaxation, reducing alcohol intake and exercise," he said.
TSBE Health general manager, Jaden Frame, said it was great that the hospitals were working together to promote community health through their participation in the Movesmarter Corporate Challenge.
"I'd like to thank Vision Exercise Physiology for providing the IT platform that allowed us to run this program. This platform is now being adopted and used worldwide and is another example of a Toowoomba business taking a product to the world," Mr Frame said.
The team from St Andrew's won the Battle of the Hospitals in 2017, and are eager to defend their title this year, with their staff well ahead on points leading up to Sunday's event.
The Challenge will be finalised on Sunday at the culmination of the Peak2Park where participants run, walk or jog through Toowoomba's scenic parks and gardens, starting at Picnic Point and finishing at Lake Annand.