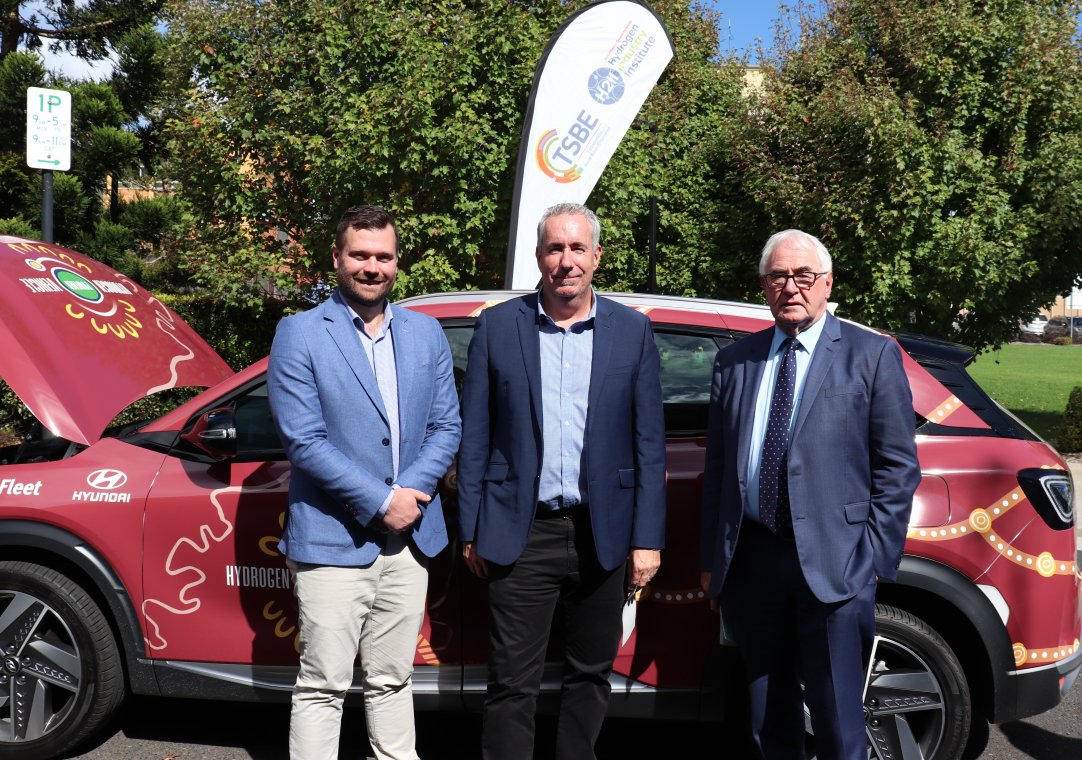 Hydrogen powered car makes historic road trip to Toowoomba
History was made along the Warrego Highway when an electric vehicle, powered by a hydrogen fuel cell made its first road trip outside of Brisbane.
The 250km round trip is a significant milestone in Queensland's clean energy story and aims to accelerate the awareness of renewables transport.
Hydrogen is a fuel of the future with the passenger car not producing any emissions, unlike traditional vehicles.
The transport sector is currently Queensland's second largest source of greenhouse emissions and the heavy vehicle transport sector is expected to be the first to move to lower emissions power sources like fuel cell technologies.
Toowoomba and Surat Basin Enterprise (TSBE) Manager for Energy & New Industries Reagan Parle said it's an exciting time to be involved in hydrogen, a future fuel.
"This road trip will be a moving demonstration of what Queenslanders can expect to see on the roads in a few years," said Mr Parle.
"Hydrogen is coming so it's important we drive awareness of the opportunities so local business can get involved and not miss out on this growth industry."
"This is the next chapter of our energy story in the Surat Basin as we bring hydrogen into our diverse energy mix," he said.
The region is cementing itself as the energy capital of Queensland, with CS Energy constructing a green hydrogen demonstration plant at Kogan Creek near Chinchilla for transport fuel which will produce renewable hydrogen in the near future.
NERA's General Manager for Hydrogen Leigh Kennedy, who joined the road trip to Toowoomba, said Queensland is punching well above its weight when it comes to clean energy opportunities.
"Australia really has those competitive advantages, such as our expansive road transport networks, that lend themselves to heavy vehicle adoption and investment in refuelling infrastructure."
"We already have the required skills, expertise and existing infrastructure that the hydrogen industry can leverage and really take advantage of to make sure Australia is a leading player," said Mr Kennedy.
Toowoomba Region Mayor Paul Antonio said the Toowoomba Region had a rich tradition in transport innovation.
"Toowoomba was home to Trevethans' Coach Works, which started out making buggies, sulkies and Queensland's earliest bicycles and motorbikes, as well as Queensland's first motor cars," he said.
"I congratulate TSBE & NERA (National Energy Resources Australia) for again placing us on the map with the first trip by a hydrogen-powered car from Brisbane to Toowoomba.
"This further demonstrates how Toowoomba and the Surat Basin can become key players in the production of hydrogen for industry. We need to become more self-sufficient in our energy use – as well as lowering our emissions."
"We need to look for alternative fuel sources like this and Toowoomba has a real opportunity to be a hydro hub for all of Australia," said Mayor Antonio.
The hydrogen vehicle's trip to Toowoomba is the furthest it's travelled from Brisbane due to current limitations in re-fuelling infrastructure.