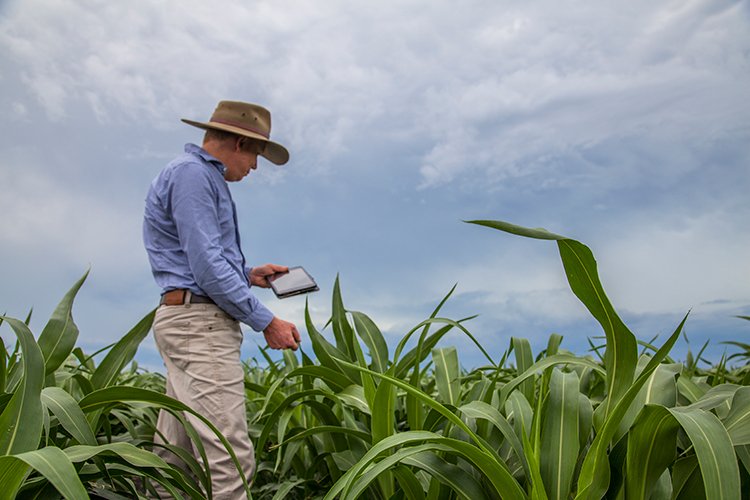 Media Release: Digital Farming is putting farms on the map
Budding innovators with big ideas will be front and centre at the annual Food Leaders Australia (FLA) 400M Ag & Food Innovation Forum being held in Toowoomba's Armitage Centre on November 21.
One of the innovators presenting at the forum is Tim Neale, CEO of DataFarming who is driving the future of agriculture with his technology building custom solutions to a wide range of agricultural problems.
Mr Neale who recently won the 2018 Rural Consultant of the Year at the Australian Farmer of the Year Awards has developed a free online precision agriculture platform to help farmers and agronomists understand the variability in their crop or pasture production using real-time satellite imagery. The technology is based on years of experience helping farmers and agronomists enter the digital agriculture space.
"The key to the success of the platform is how simple and accessible it is for farmers to use. It allows them to look at their fields every five days from a satellite helping decision making easier and quicker, " said Mr Neale.
And the results are speaking for themselves.  "We have had incredible uptake of our platform with over 6 000 farms adopting this technology, 40 000 paddocks and 3.6 million hectares of processed data down to a field level. Even though it has been a hard year and a dry season adoption rates have far exceeded expectations with over double the numbers of farms implementing this technology than expected and farmers seeing real benefits," said Mr Neale.
Matt Bissett, Agronomy Consultant from AGRIvision Consultants said, "DataFarming has saved me roughly three hours work assessing Lentil desiccation timing this morning on this farm alone."
The 400M Ag & Food Innovation Forum celebrates the adoption of Ag Tech and highlights market leading innovation to the region and Australia. It connects our brightest innovators with the region's most influential investors to accelerate the next generation of agricultural productivity, production specialisation and sustainability.
400M Ag & Food Innovation Forum
Date: Wednesday November 21, 2018
Time: 8:30am until 9:00pm
Location: Armitage Centre - Empire Theatre, Toowoomba
To book: www.tsbe.com.au or 07 4639 4600.
For media enquires please contact: Kristy Hayes, 0419 490 455