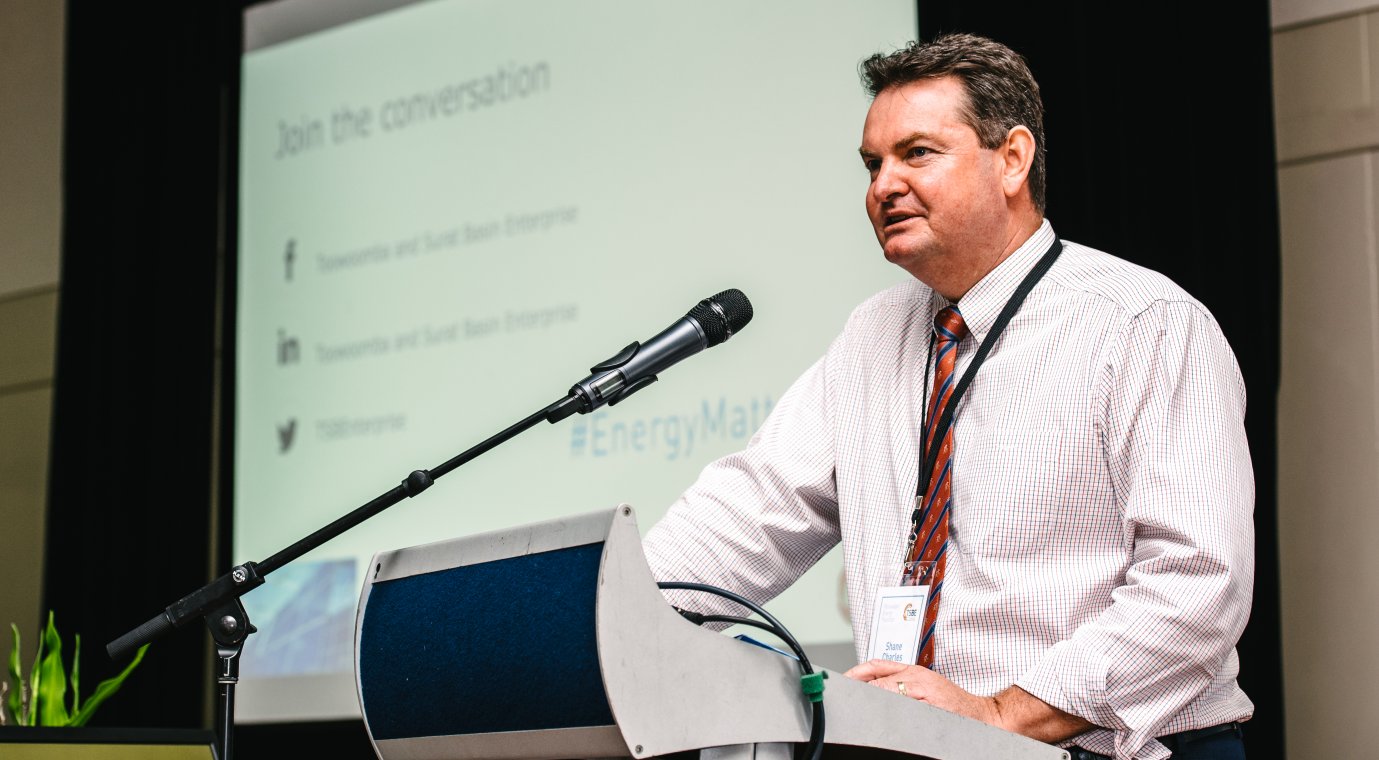 TSBE Shane Charles to welcome CEO in 2018, as he moves to role of chair
Toowoomba and Surat Basin Enterprise will welcome a new CEO in 2018 to continue the strong advocacy, policy and engagement work of outgoing executive chairman Shane Charles.  

Mr Charles was the inaugural CEO of TSBE, having held the position from 2012 until 2015, before stepping into a full-time Executive Chairman role at TSBE in 2016.

"When I accepted the Executive Chairman role at TSBE I indicated to the board that I would stay for 12 – 18 months, and true to this I have now indicated that from April 1 next year there will be a new CEO will be at the helm," he said. 
However, Mr Charles will not be lost to the region with the board asking him to remain on as Chairman.
"We believe there are strong candidates in the market and as such, we will begin recruiting this month, with a plan to have the candidate in the role from April 2018.
Mr Charles has remained at the forefront of advocating for and delivering infrastructure development in the Toowoomba and Surat Basin region to maintain sustainability for the area and its residents.
Looking back, Mr Charles said he had a number of highlights from his time at TSBE, starting the company from scratch in 2012.
"For TSBE to now be recognised as the premier economic development organisation in the country is extraordinary. To see the development pipeline of $13 billion in the Toowoomba Region with TSBE as the conduit for advocacy and as a strong voice is something I'm immensely proud of," he said.
"We are now also recognised as being the gateway to the Surat Basin. This was not the case on our inception. We have worked hard with gas companies to ensure they give locals the first opportunity for work in most cases."
"TSBE has assisted over 60 companies to relocate to the region. This has an enormous benefit for the region, and flow on effects that are still being felt.
"And who could forget AccessChina'16, which saw 200 businesses from our region take the global spotlight on the first international freight flight out of Toowoomba Wellcamp Airport. 
"We are a diverse and confident economic region and we are optimistic about our future.  We are better placed than any other region in the country to take advantage of opportunities in the marketplace. The whole region is strong, just look at the Western Downs with its rich resources in coal, gas, agriculture and now renewable energy.
"TSBE was also instrumental in establishing weekly freight flights from Toowoomba Wellcamp Airport to Hong Kong on Cathay Pacific cargo flights. 
"And of course, TSBE would be nothing without our 500-strong membership and our ability to link our business with opportunity. To this end, we've continued to develop and expand, creating the strong voice and brand for agriculture – Food Leaders Australia, and now establishing a Health division to strengthen that sector."
Mr Charles will continue in his many roles across the region, including remaining as Chairman of Sunrise Way and the Royal Agricultural Society of Queensland and looks forward to starting work on some new projects once a new CEO is bedded in.
Toowoomba Region Mayor Paul Antonio said Mr Charles has played a pivotal role in the establishment and ongoing success of TSBE.
Mayor Antonio said Mr Charles had built an enviable record during his time at the organisation.
"Council's bold ambitions for this region have been well and truly adopted and promoted by Shane and the team at TSBE," Mayor Antonio said.
"Shane has been a proud and vocal advocate for the Toowoomba region and the wider Surat Basin across Queensland, Australia and overseas, particularly in the growing and lucrative Asian markets.
"We need to be proactive and seize the opportunities that exist in new and expanding markets, both here and overseas.  
"Shane's work has built a positive framework for promoting our region and highlighting the many business and investment opportunities that we offer in transport and logistics, value-adding in food processing and the emerging communication and technology spheres.
"I thank Shane for his leadership and know he has built a strong foundation for the next stage of TSBE's work, which he will continue to contribute to as chairman."