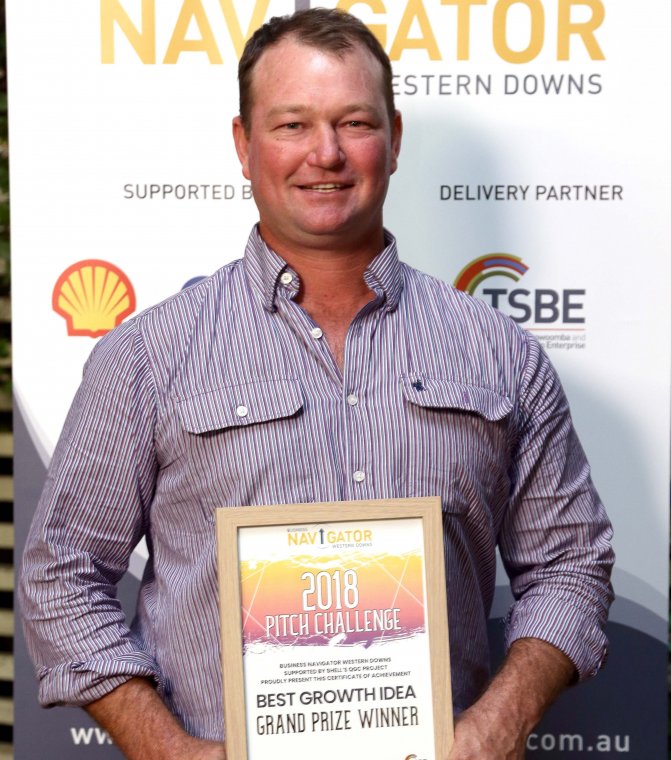 Western Downs is the home of new ideas in 2020
The Business Navigator Pitch Challenge is on again in 2020 with over $30,000 in prize money up for grabs.
It is a friendly shark-tank style event where entrants deliver their idea for a new product, service or business to a panel of judges, under one of two categories; New Business Idea or Business Growth Idea.
There is also a third category which is a People's Choice category allowing family, friends and community members to attend the finals dinner and vote for the idea they think most likely to succeed.
Winner of Best Growth Idea in the 2018 Pitch Challenge, David Abbott, has continued development of his unique steel picket driving concept, a system which enables safer and more efficient rural fencing installation.
"Being a part of the Business Navigator Pitch Challenge gave me the confidence to move forward with my idea, and the Business Navigator team continue to be helpful with getting it to prototype stage," Mr Abbott said.
Finalists will receive one-on-one coaching to focus their idea and deliver with confidence.
It's the flagship competition of Business Navigator Western Downs, a business growth and innovation advisory service partnering with owners of new and developing businesses in the Western Downs to accelerate their ideas.
Business Navigator is a Shell's QGC business program delivered in partnership with Toowoomba and Surat Basin Enterprise.
Lead business coach Ariane de Rooy said the small team provides strategy, finance and marketing advice as well as hands-on assistance to help commercialise ideas and achieve business growth objectives.
"We partner with clients to introduce new ways of thinking about their business, develop and implement business goals and plans, source funding and connect leaders with other industry experts," said Ms de Rooy.
Shell's QGC operations manager Nagaraj Ramaraj said the business was proud to support the region's economic development through this innovative partnership.
"We're looking forward to hearing more great ideas at the Pitch Challenge in 2020 and seeing the continued growth of businesses across the Western Downs," he said.
Chinchilla's Candice Mason, who owns Australian craft store My Felt Lady, was also part of the Pitch Challenge in 2018 and encourages innovators and businesspeople to use the challenge as a way of growing their skills.
"Being part of this competition was a fantastic experience and gave me the opportunity to develop my business further."
"I've recently returned from a hugely successful stand at the Brisbane Craft & Quilt Fair through Intocraft and am looking forward to growing further in 2020," said Ms Mason.
The Pitch Challenge is open to new and existing businesses of any size within the Western Downs region.
Applications close on Monday 20 January at 5pm.   To enter, head to www.pitchchallenge.com.au
The Business Navigator Pitch Challenge Finals will be held with a gala dinner in Chinchilla on 19 March 2020.   
Tickets to attend the dinner and vote for the People's Choice award are now available at www.tsbe.com.au/events.