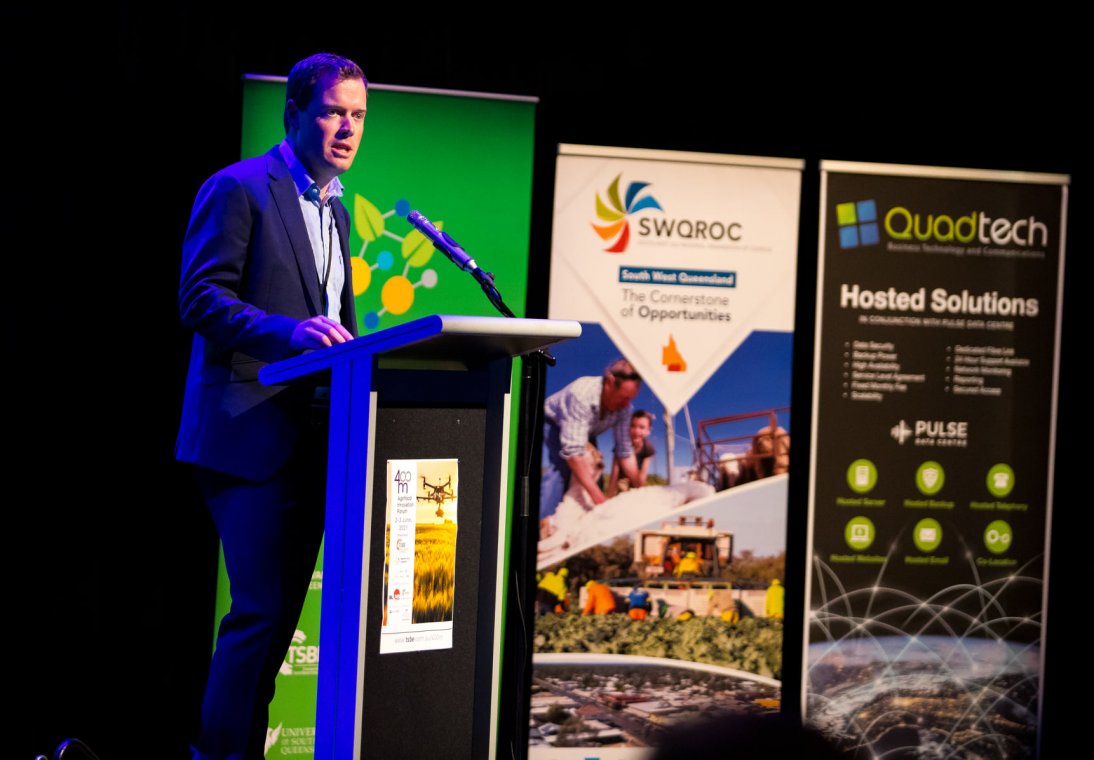 World class ag solutions take centre stage at innovation forum in Toowoomba
Global leaders in innovation say Toowoomba is at the forefront of AgTech, with entrepreneurs driving new ideas which are changing the game for food production.
Over 100 delegates gathered for the 400M Forum at the Empire Theatre today, hosted by Toowoomba and Surat Basin Enterprise (TSBE).
Bruce McConnel, TSBE Food Leaders Australia (FLA) General Manager said it was great to have our brightest innovators in one room, working together.
"Today showcased what the future of agriculture could look like, if the industry maximises opportunities and focuses on collaboration to solve some of the current issues."
"It's exciting to showcase how the sector adopts innovation, giving attendees a real sense of how to turn some of these fantastic concepts into reality," said Mr McConnel.
The forum included discussions on how industry supports growth, Artificial Intelligence in Queensland, the connectivity gap plus more.
Kent Antonio, General Manager ICT and Manufacturing at McLean Farms was on today's panel discussion focusing on why and how industry innovates.
"The world is moving so fast and staying ahead of the curve is the way to stay in business, we want to be a leading business, not a Kodak," he said.
Another panel member was talking to the delegation about his AgTech success story, DataFarming.
Managing Director of DataFarming, Tim Neale said, "it has been great to see farmers start adopting new technology to really maximise the productivity of their farms."
DataFarming provides data to over 22,000 farms across Australia, with the technology used in 50 different countries worldwide.
"The data enables farms to actually analyse the growth of their crops and pastures in real time," said Mr Neale.
"We've seen huge uptake in the technology because people are thirsty for new information about how they farm."
Staying ahead of the curve was a common theme for the forum.                                         
Gavin Knight, Solutions Architect at Quadtech told delegates about why the current opportunities across the region are so great.
"I've been working overseas for a long time, and my observation of Toowoomba, coming back to it after being away for a number of years is that it's on the cusp of that."
"That what I see here is the creation of something that really could be a powerhouse for AgTech, that would be known not just in Australia, not just in Queensland but globally," said Mr Knight.