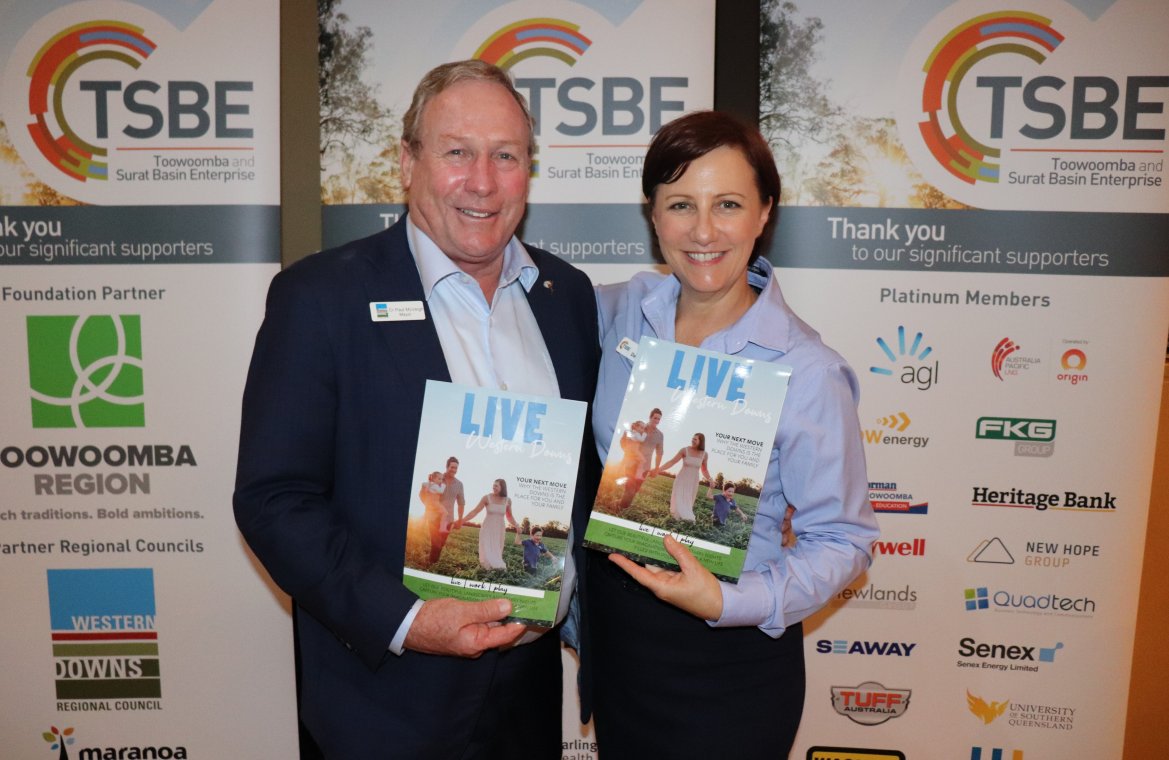 LIVE Western Downs: Regional liveability draws city dwellers West to boost workforce
The Western Downs is emerging as one of the big winners of a nation-wide shift to regional living, as more Aussies realise the benefits of the bush.
With one-in-five city residents looking to move to the regions, cities like Dalby and Chinchilla are now standing out more than ever as superb options for young families and first time home buyers.
Toowoomba and Surat Basin Enterprise (TSBE) CEO Ali Davenport said that with less traffic and more housing affordability, it's no surprise there's a surge of activity.
"The Western Downs is a powerhouse region with a population of 34,000 people, who love the employment opportunities, relaxed lifestyle and cheaper cost of living compared to metropolitan areas," said Ms Davenport. 
The Western Downs is a front runner for people considering a move west and TSBE has developed a new liveability magazine in partnership with Western Downs Regional Council.
'LIVE Western Downs' promotes the community, parks, health services, education and job opportunities on offer.
The number of local jobs in the region has increased significantly over the past 10 years to 20,834 jobs, with opportunities continuing to rise due to the strong pipeline of developments.
Western Downs Regional Council Mayor Paul McVeigh said dynamic agricultural, manufacturing, and energy industries underpin the diverse economy.
"Our active, vibrant community is supported by energetic locals who are proud of where they live, and it's this homegrown hospitality that sets our region apart."
"We are delighted to build our region and showcase everything that's great about living on the Western Downs," said Mayor McVeigh.
The LIVE Western Downs magazine includes stories of people like Hamey Hayllor who moved from Brisbane to Dalby after falling in love with second generation farmer, Dan.
"Clearly, I wasn't going to get the cotton farmer to move to Brisbane, so I had to make the move to Dalby and I'm so glad I did."
"We live 20 minutes out of town, on one of the properties Dan runs, it's a great lifestyle and wonderful place for us to raise our family," said the mother of two. 
Hamey is a PT Instructor and Owner of Physical Fix gym in Dalby.
"With Dan and I both having very busy work lives, we are so lucky to have such a supportive network of family and friends, plus amazing staff to help us achieve what we do within both our businesses and at home," said Hamey.
LIVE Western Downs is a free magazine which will be available at businesses, motels and tourism attractions across the region. 
Find the magazine here: https://issuu.com/wdrc5/docs/live_western_downs_2021_-_tsbe_wdrc