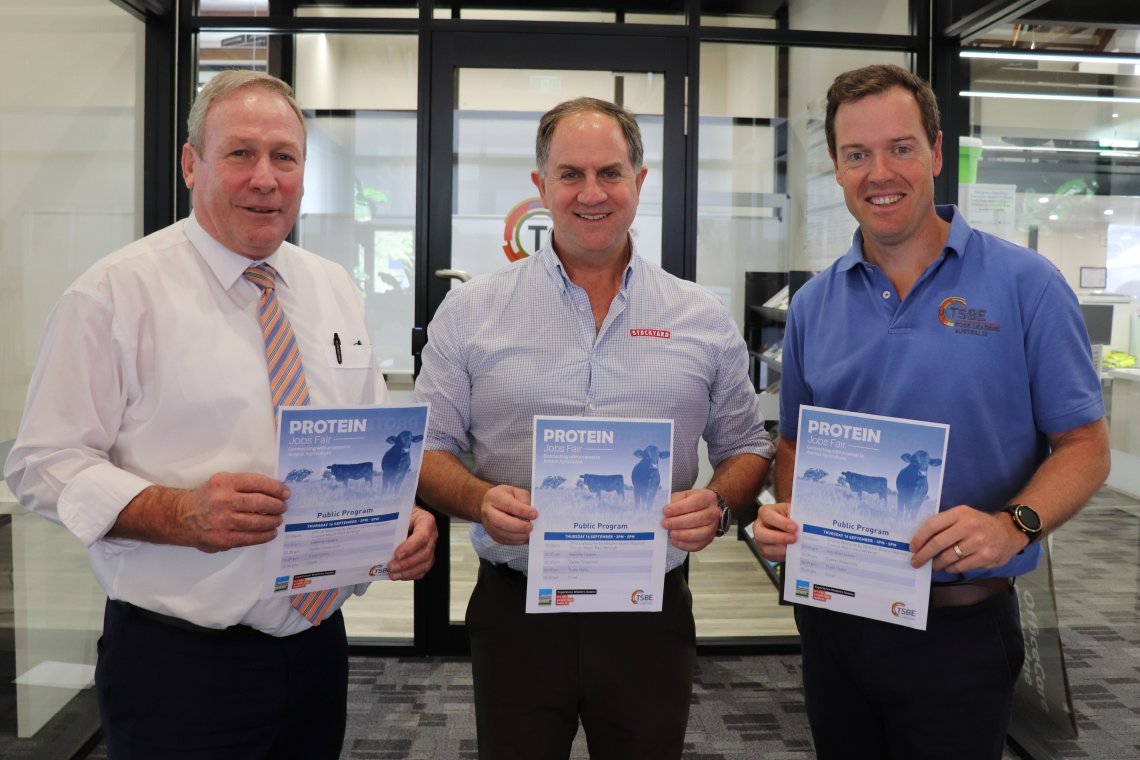 Protein jobs fair to attract new wave of workforce in Western Downs
A new jobs fair aimed connecting people to a career in animal agriculture will help fill the gap in the heart of Australia's beef production.
42% of the national feedlot capacity is located within 200 kilometres of Dalby, yet some businesses are struggling with workforce attraction.
Bruce McConnel, TSBE FLA General Manager said the jobs fair, which was officially launched today, is aiming to change that by giving local jobseekers a valuable insight into the industry.
"A career in the protein sector can be so rewarding, so it's important we give the next generation a real taste of what it's like."
"Connecting people to a career in animal agriculture will help share the challenges across all businesses so one company isn't struggling alone."
"The Western Downs is a powerhouse for agriculture so by providing these pathways to school leavers and university graduates is also helping ensure a prosperous future," he said.
Agriculture is a founding pillar of the region's economy and continues to hold its place with a long-standing reputation for being resilient, sustainable and modern.
Each year more than 200,000 cattle are sold through the Dalby Regional Saleyards, making it the largest same-day prime and store cattle yards in the country.
Toowoomba and Surat Basin Enterprise will host the inaugural Protein Jobs Fair in partnership with Western Downs Regional Council.
Mayor Paul McVeigh said the event presented a great opportunity to attract job seekers to the Western Down and fill industry gaps to further-develop the region's renowned agricultural industry.
"Agriculture is at the heart of the Western Downs economy, with our region holding some of Queensland's most productive and fertile soils which supports our impressive broad acre farming and livestock production," Cr McVeigh said.
"Our region is a recognised leader in agribusiness and the agricultural industry is one of our largest employers, and Council is always excited to explore new opportunities to grow the sector and boost our economy.
"This event gives us a unique opportunity to engage both early career workers and industry professionals from near and far, while showcasing our great liveability, strong economy, quality lifestyle and the people that make our region so fantastic."
Stockyard Beef Managing Director Lachie Hart highlighted the variety of career opportunities available in the protein sector.
"For us it's all about local jobs, we're a growing business and we're desperately looking for new jobs coming into our business."
"We're looking for data analysts, we're looking for engineers and marketing people with communications skills," he said.
Mr McConnel is calling on anyone looking for a graduate position, apprenticeship, traineeship or an entry-level job to attend the free jobs fair on 16 September.
"This is a fantastic opportunity to interact closely with agriculture industry professionals and learn about a day in their professional life."
"Don't miss the chance to secure your next job in an industry that has endless opportunities," he said.
The Protein Jobs Fair will be held at Dalby Events Centre with registrations now open on the TSBE website here.