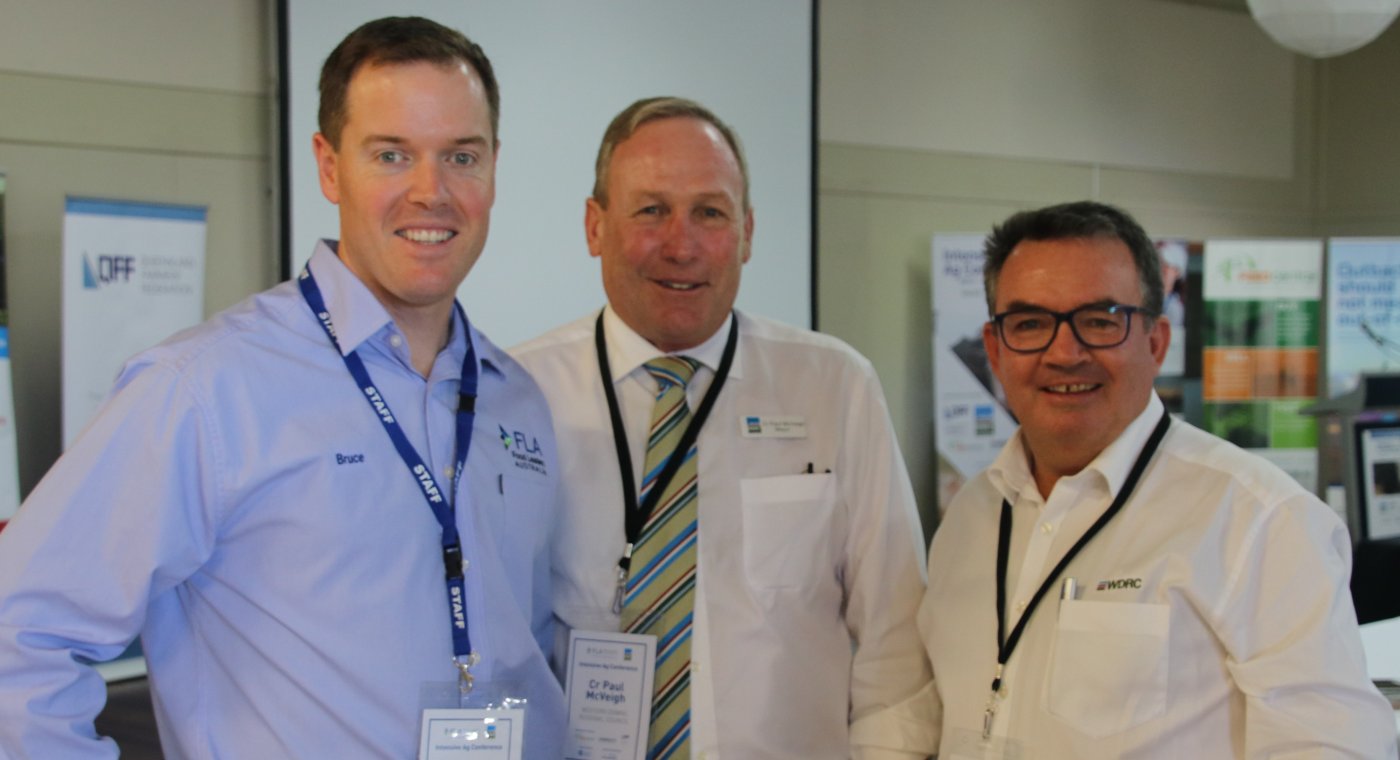 Downs is hub of nation's intensive agriculture
Ninety-seven per cent of our nation's food production systems exist in some scale within three hours of Toowoomba, according to Food Leaders Australia (FLA) general manager, Bruce McConnel.
Evidence of this diversity in our region was highlighted at this week's Intensive Ag Conference held in Dalby, where Mr McConnel addressed more than 120 delegates from south east Queensland's agribusiness and primary production sectors.
"We are the nation's largest intensive animal region, boasting 170 registered cattle feedlots (915,000 SCU's), two million meat poultry birds, 78.6 million eggs produced annually, and 120 registered piggeries caring for 430,000 pigs," he said.
Mr McConnel said that throughout the Western Downs and Southern Queensland region, the intensive animal industries were also a key driver of employment and economic growth.
The inaugural Intensive Ag conference, organised by FLA, an initiative of Toowoomba and Surat Basin Enterprise (TSBE), in conjunction with Western Downs Regional Council, attracted an impressive line-up of speakers on topics including waste management, social license to operate, planning, government services and facility construction.
Western Downs Regional Council Mayor, Cr Paul McVeigh, said the region was one of the largest producers of high-quality grain and feed in the country.
"We have the space to sustain ethical, stress free facilities for the intensive ag industry, and we have the road connectivity to link easily to supply markets to the Port of Brisbane, as well as connectivity to Wellcamp Airport, which exports chilled beef to the international market," Cr McVeigh said.
"We have the feed capacity to support large scale operations and we have the skilled labour workforce to service this industry, as well as keep pace with its growth," he said.
Cr McVeigh said the intensive agriculture sector was "booming", and the region had everything the industry needed to continue to succeed.
"The pork industry has moved to larger scale operations since the late 1990's, and over the past 40 years we've seen the beef industry mature to large scale feedlots that we have on the Downs today, where grain-fed beef of the highest quality is no longer a luxury," he said.
One speaker who sparked a lot of discussions was World Wildlife Fund (WWF) Global Commodity Leader, Ian McConnel, who spoke on social license to operate, and drew many questions from the floor.
Mr McConnel outlined the work the WWF does on beef production right around the globe, from stopping deforestation in Brazil, supporting small-holders adopt best practices in Africa, encouraging more sustainable diets in Europe, ensuring farming is not damaging the Great Barrier Reef, to helping the world's biggest companies develop sustainable supply chains
"At WWF we have developed and are implementing successful strategies to improve the sustainability of beef production and create market demand and reward for production practices that reduce environmental impacts," he said.
Queensland Farmers' Federation (QFF) chief executive officer, Travis Tobin, spoke of how he felt better collaboration between the intensive agriculture sectors could be achieved.
"Collaboration and resourcing from QFF member industries could be improved, and this increased collaboration would deliver better policy positions on issues such as: animal welfare; planning; biosecurity; bio-energy; and competition policy," Mr Tobin said.
Conference delegate, Kristy Frahm, of Murgon, said she would definitely be taking the valuable information learned at the conference back to members of her organisation.
As chief executive officer of the Burnett Inland Economic Development Organisation (BIEDO), Ms Frahm said all sectors of the intensive agriculture industry needed to work together.
Wambo Feedlot owner, Max Winders, of Dalby, said he found the conference a great forum which had a "wonderful range of speakers".
With 11,000 head of cattle currently running in his feedlot, Mr Winders described the conference as "very insightful". "I can't wait for the next one," he said.
The second day of the conference featured an on-site tour of Sandalwood Feedlot's 17,000 head facility at Dalby, operated by managing directors, Kev Roberts and Warren Salter.
FLA would like to thank event sponsors: Western Downs Regional Council, Queensland Farmers' Federation, Feed Central, March IT, Taylor Byrne, Fitton Insurance, Mort and Co, and Sunpork.