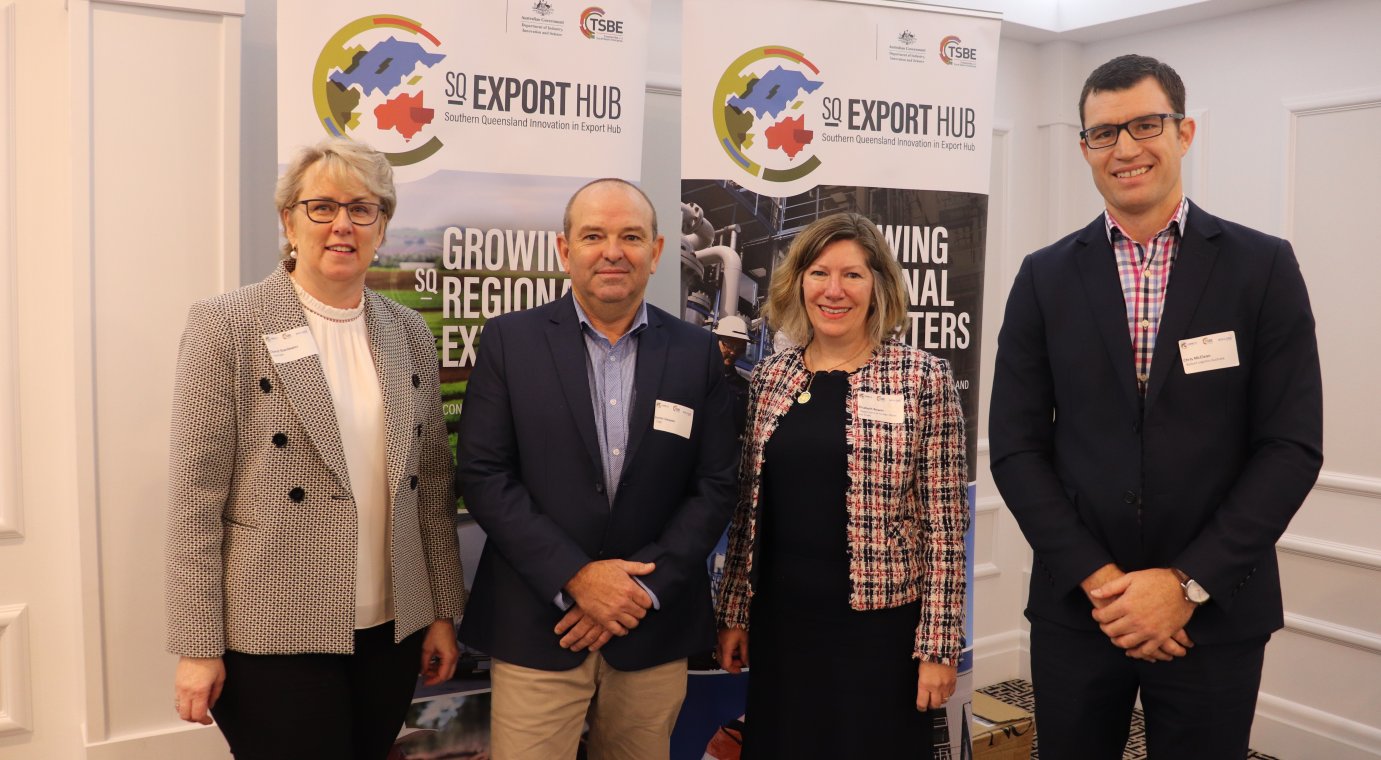 Exporting local produce to the UK
Business leaders and local exporters were excited to hear from leading government representatives about the future of trade with United Kingdom at a breakfast briefing hosted by TSBE's Southern Queensland Innovation in Export Hub (SQ Export Hub).
Insights were shared at the briefing yesterday about Australia's recently signed Free Trade Agreement (FTA) with the United Kingdom (UK).
This marks a once in a generational deal for Australia and an incredibly significant moment in the nation's relationship with the UK.
Being the first FTA signed since Brexit, the Australia-UK FTA contains commercially significant commitments that will strengthen diversification and COVID-19 recovery for both countries.
The Australia-UK FTA is about creating new export opportunities and jobs for business by eliminating tariffs on over 99 per cent of Australian goods exports to the UK.
This is commercially significant for around $9.2 billion worth of annual Australian merchandise trade into the UK.
Justin Heaven, TSBE Export Manager is pleased that the A-UKFTA will smooth out customs procedures to boost efficiency, reduce costs and cut red tape.
"It is great news that this new trade agreement recognizes the importance and challenges of establishing export markets abroad whilst eliminating tariffs and red tape that slows trade down," said Mr Heaven.
"Agricultural producers will benefit by the removal of tariffs associated with beef, sheep meat, sugar, rice and dairy exports whilst promoting Australia's quality of produce."
"This recently negotiated FTA also delivers tangible outcomes for Australian technological start-ups, innovators, and consumers by enhancing digital trade across all sectors whilst ensuring world leading standards for personal data protection."
"The briefing session also highlighted the UK as a price sensitive market and encouraged exporters targeting the UK market to make sure they have a well-developed value proposition, take time to research the market and be committed," said Mr Heaven.
There are major benefits for regional producers including beef producers who will have immediate access to a duty-free quota of 35,000 tonnes and for sheep producers there will be an immediate access to a duty-free quota of 25,000 tonnes.
For wheat, barley and other cereals producers there will be full elimination of tariffs over four years.
It will also make it simpler for traders and customs authorities to prove the originating status of goods and this includes reducing the amount of paperwork traders need to prepare at the border.
Sharing their knowledge at the breakfast briefing was Australia's Chief Negotiator Elisabeth Bowes, Joanne Freeman who is the Consul General for Queensland & Northern Territory and Director of Trade Australia & New Zealand and Austrade's Director - Investment, Agribusiness & Food Centre of Excellence Cheryl Stanilewicz.
This esteemed line up of guest presenters were on hand for businesses to ask specific in market questions and they covered an in-depth analysis of opportunities for local businesses.
The event was sponsored by Bolloré Logistics who is a global leader in international transport and logistics.